2011 Arctic Cat F5 LXR Review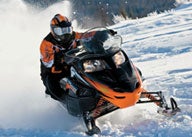 Cat's best value in trail sports reliability
It's difficult for us to imagine that we may be seeing the end of an era. The 2011 Arctic Cat F5 LXR may be the last of the Suzuki-built 499cc powered two-stroke sports sleds. As it is, this venerable engine package exists in only two of Arctic Cat's model year 2011 sleds — the Sno Pro 500 and this "starter" F-series trail sportster.
Fast Facts
Engine Type:Horizontal In-line
Cylinders:2
Engine Stroke:2-Stroke
Valve Configuration:Reed Valve
Displacement:499 / 30.4
Starter:Electric
Turbocharged:No
View Full Spec
This 499cc format fades into Arctic Cat history in much the same quiet manner that Polaris' Fuji-built 500 twin and Ski-Doo's carbureted 600cc Rotax end their runs. They simply bow out with little if any salute to their proud histories. Their time has run its course and now they fade to be replaced by cleaner emitting powerplants with improved fuel efficiency.
The 499cc Cat motor leaves modestly, detuned to a mid-80 horsepower package. That's mild compared to the 100-plus ponies it once conjured up in its peak Firecat-chassis trail racer trim. But that was too dirty a runner for today's standards. But it was a fun runner that could embarrass some stodgy 600cc competitors. Ahh, the good old days.
The current 2011 F5 LXR lets you relive the past while enjoying the fruits of the new breed of Arctic Cat trail sport models. The engine may be detuned, but the platform is modern and makes the current version well worth the asking price of US$8,599. That smooth running little twin sits hunkered low in the latest Twin Spar chassis, which has evolved into one of the best handling platforms on the snow. The twin cylinder two-stroke delivers performance via Arctic Cat's ACT Diamond Drive planetary gearcase, making it very good at smooth drive aways and strong in the mid-range. You'll notice at the end of a long straightaway that this sled is no F8, but with its tenacious cornering grip and smooth double wishbone front end handling, you'll be hard to get away from in the twisties.
The 2011 F5 LXR won't rock your world in sheer speed, but it will distinguish itself as a rock solid trail performer and value-added ride. Check out the features the 2011 F5 LXR calls standard fare. The LXR packaging means that the 500 engine gets twist of a key start and a reverse gear. That may not be important to a snocross racer, but to a rider who had to trailer this sled, it means convenience loading and off-loading. It also makes this sled extremely rider-friendly to new riders who may not understand that pure rope starting is a sign of a lightweight performance sled. Is that still true?
The F5 LXR can be fit to virtually any rider thanks to its Infinite Rider Positioning. This means that you can quickly set the seat height and the handlebar position to suit you or a significant other snowmobiler simply and quickly. We've found the handlebar adjustments are very easy to dial in, while adjusting the seat can sometimes be infuriating, depending on how well the adjusters function.
You'll find that this trail sled comes standard with nice-to-have features like a mid-height windshield that actually deflects wind very well, which is anti-intuitive considering its relative low profile. The seat comes with a rear storage area and the LXR model adds a standard rear tunnel-mounted bag for added convenience.
The sled feels great as the handlebar set is the best overall design in the business right now. There's a curvature to the bar ends that maximize your ability to control the sled in a corner. The runningboard position fits your feet well as they are wide to accept bulky snow boots and come with snow clearing holes to afford added grip when stand up riding over moguls.
As mentioned, the F5 LXR comes with the Arctic-pioneered double wishbone AWS front suspension. Controlling the skis are hydraulic twin tube shocks, though you could upgrade the shocks at any Arctic Cat dealership if you wanted. The overall travel measures 9.5-inches, which will provide you with ample handling and ride comfort.
The rear suspension on the F5 LXR is the same basic design found on the serious hot rod Cats. The more modestly powered F5 relies on torsion springing and hydraulic shocks to damp the 13.5–inches of travel in this version of the slide-action parallel rail suspension. You'll feel the action of the coupling blocks connecting the front and rear arm action as you brake from speed to manage a sharp corner. Note that the brake is a hydraulic disc common to all F-series sport models.
While the diminutive powerplant may not power this sled to the same end of straightway speeds as the two-stroke 800cc twin, rest assured this sled is as much a performance Cat as its more potent littermates. It shares all the common DNA of F models costing hundreds more, while offering a very significant sense of value to its ridership. This Arctic Cat model may be one of the last to feature the 499cc Arctic Cat/Suzuki twin, but it is a value leader because of it.
2011 Arctic Cat F5 LXR Specs
Engine
Arctic/Suzuki 499cc, two-stroke, liquid-cooled, twin; dual 38mm throttle body injectors in batteryless electronic fuel injection
Horsepower
85 (estimated)
Drive
Arctic RPM Sensing with ACT roller cam driven
Front Suspension
Arctic AWS VII A-arm suspension; hydraulic twin tube shocks; 9.5-inches of travel
Rear Suspension
Arctic Slide-Action parallel rail slide with coupling blocks; adjustable torsion springs and hydraulic twin tube shock, Ryde FX on rear arm; up to 13.5-inches of travel
Length
118.0 in
Width
47.25 in
Ski Stance
43.0 in.
Track
15 x 128 x 1.0
Weight
NA
Fuel Capacity
12.6 US Gal
Features
Standard: digital/analog tach & speedometer with dual stage trip meter; Electric gas gauge; clock; accessory outlet; reverse; key start; infinite rider positioning; rear storage bag
Optional: mirrors; 2-up seat; Cat Communications system; rack; sport bumper; handguards
MSRP
US$8,599.00 — C$10,499.00
Related Reading
2011 Arctic Cat F8 Review
2011 Arctic Cat Sno Pro 500 Review
2011 Fan-Cooled 550cc Trail Sportsters
2011 Arctic Cat Lineup Preview