2011 Arctic Cat Sno Pro 500 Review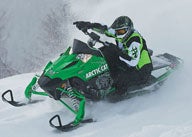 One of the most fun-to-ride sleds you can own
There are some sleds that just make you feel good when you look at them. In fact, we figure the 2011 Arctic Cat Sno Pro 500 should be equipped with one of those "smiley" face decals on its hood. It just makes you want to smile when you look at it. It's not the fastest sled, nor the most powerful one in the Arctic Cat model line for 2011, but it certainly is one of the most fun to ride.
Fast Facts
Engine Type:Horizontal In-line
Cylinders:2
Engine Stroke:2-Stroke
Valve Configuration:Reed Valve
Displacement:499 / 30.4
Starter:Pull
Turbocharged:No
View Full Spec
The Sno Pro 500 fits into a sort of limbo in sled model makeup. It's not what you'd want as an all-day mileage maker. It's not the hottest thing on two skis when it comes to sheer speed and taking high-speed corners. And after you've enjoyed it for a few days, you'll probably wish it had a more potent engine than the 85-horsepower 499cc Twin that comes standard. But, all that said, the Sno Pro 500 makes for a darn fun-to-own snowmobile.
The Sno Pro 500 for 2011 is only slightly changed from last season's introductory model. According to Arctic Cat officials, the significant — tidy, but small — changes include revised electronic fuel injection calibration and improved throttle body heat shield. Other than that, the 2011 version looks and reacts pretty much the same as the previous year's version. In other words, Arctic Cat didn't mess with success.
The Sno Pro 500, while only available in very limited numbers, was enough of a success that it became hard to find if you hadn't ordered yours early. We figure that'll be the case again this season. You see, the Sno Pro 500 happens to slot nicely into certain stock and amateur racing classes. After all, the Sno Pro 500 was directly derived from Arctic Cat's full-blown terrain 600cc terrain racer and converted to a "trail" sled. The terrain-racing sled didn't have oil injection, so Cat engineers had to find room and fit one to the 500 model. But there is enough carryover from racer to trail version to give you a racer-like appreciation for what the Team Arctic racers get.
The Sno Pro 500 enjoys the specialized frame, suspensions and component placement to give you a racer's feel. The sled was designed to handle corners, rough terrain and deep, bruising bumps. You'll find that most heavy and key components like engine and drive system fit snugly back of the nose and under the seat to maintain a low and efficient center of gravity. The weight has been centered to help the sled turn on a dime. Of course, the quick reacting steering is also a factor of the race-bred progressive steering action and 9.5-inches of terrain-soaking action of Arctic Cat's AWS VIII wishbones suspension. Fitted with Fox Zero Pro shocks with internal floating piston, the front-end measures 43-inches from center to center of ski stance. The curved handlebar and straight up mounting make the Sno Pro 500 very comfortable and easy to control in rough terrain.
At the back, you'll find a slide-action parallel rail suspension that uses both adjustable torsion springs and Fox shocks to control bumps and ease motion through 13.5-inches of travel. The rear skid provides the frame over which a 128-inch circumference track spins. The lug profile measures 1.25-inches to assure aggressive bite.
While Arctic Cat refuses to divulge sled weight for its trail models, we'd say that the Sno Pro 500 falls into the Ski-Doo TNT range, which means that the modest power of the Suzuki-built 500cc Twin is quite adequate. In point of fact, the Sno Pro 500 is extremely competent in terrain racing, supplanting the 80-horsepower Yamaha Phazers as class leaders in midwestern competitions.
While modest by most of today's standards, especially Arctic Cat's own, which includes an 170-plus horsepower screamer in its stable, the 2011 Sno Pro 500 comes with a nicely balanced drive system of 85-hp engine and Arctic Cat designed rpm-sensing drive clutch. Combined with a TEAM driven, this combination provides a very reliable, durable and fun to ride power output. Add in Cat's famed batteryless electronic fuel injection and you have a sled with nearly instant-on power and smooth handling.
For added benefit, the Sno Pro 500 trail racer adds creature comforts like an electronic fuel gauge, hand and thumb warmers, centered performance gauge that displays analog and digital speed, tachometer and a dual stage trip meter. You can personalize the Sno Pro 500 with a higher or shorter windshield, the addition of a sport bumper, a rear storage bag or handguards. But there is just one color choice — Arctic Cat's racer green.
In just a single season, the Sno Pro 500 has become one of those near legends that Arctic Cat seems to come up every so often. It isn't he fastest, but it is fast enough where it counts — at the checkered flag — or in the twisties. It rides well, especially over rough terrain. And it's just an absolute hoot to push hard. Put a "smiley" face on this sled and you have a sled that lights up and smiles almost as much as you will.
2011 Arctic Cat Sno Pro 500 Specs
Engine
Arctic/Suzuki 499cc, two-stroke, liquid-cooled, twin; dual 38mm throttle body, batteryless, electronic fuel injection
Horsepower
85
Drive
Arctic rpm sensing drive with TEAM driven
Front Suspension
Arctic AWS VIII A-arm suspension; Fox Zero Pro IFP 2 shocks; 9.5-inches of travel
Rear Suspension
Arctic Slide-Action parallel rail slide with Fox shocks; up to 13.5-inches of travel
Length
117.0 in
Width
49.5 in
Ski Stance
43.0
Track
15 x 128 x 1.25
Weight
NA
Fuel Capacity
11.0 US Gal
MSRP
$8,399
Related Reading
2010 Arctic Cat Sno Pro 500
Race Suspension Adds to Sno Pro 500 Pricing
2011 Arctic Cat Lineup Preview
2011 Arctic Cat Z1 Sno Pro Review
All Things Arctic Cat on Snowmobile.com