2012 Arctic Cat Bearcat Z1 XT Groomer Special Review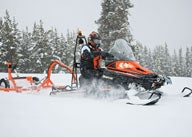 Arctic Cat creates something "special"
It seems like such a simple concept; convert a utility sled into a dedicated groomer. But why didn't any one manufacturer do it until now?
Fast Facts
Engine Type:Horizontal In-line
Cylinders:2
Engine Stroke:4-Stroke
Valve Configuration:OHV
Displacement:1056 / 64.4
Starter:Electric
Turbocharged:No
View Full Spec
Arctic Cat, with the urging of one of its New England snowmobile dealers, decided to fill a small niche with a great idea. The 2012 Arctic Cat Bearcat Z1 XT Groomer Special, as it's officially known, is a very well turned out piece of equipment. All too often niche products that won't ever generate mass sales tend to be under developed and, sometimes, virtually worthless other than to allow a manufacturer to say, "See, we've got such a product." That is s-o-o not the case here.
Credit a small town snowmobile dealer with seeing a much bigger picture in an oft-ignored soft spot in the industry. He knew that major funding for snowmobile trails gets spent on the glamour trails, the snowmobiling freeways in the popular backwoods tourist areas. The equally, if not more important, "feeder" or club trails too often get overlooked as they frequently have unique problems that Ski-Dozers and heavy duty tractors can't manage. This is especially true in New England with its plethora of under funded clubs and extremely narrow local trails. At best a hunky tractor with a full-size groomer attachment might need to make frequent three-point turns to maintain the best local trail sections. In reality, some of those narrow sections are left ungroomed because the big equipment can't get through. That has to be the case for my hometown New England club. It could be difficult to maneuver a long-tracked Summit 800 around some of those corners, much less a full-size groomer.
Wisely Arctic Cat' product management listened to the actual needs of the indigenous snowmobiling population and its progressive dealers. What we see in the 2012 Arctic Cat Bearcat Groomer Special is not perfect, but it certainly fills a need and shows that Arctic Cat understands the sport's history, which says, without trails there is no snowmobile market. Granted the original concept for trails was a "big" picture one that used Quebec as a showcase for how snowmobiling could have major trailways to and from destinations. We have those now. The missing link is just that — a missing linkage of getting riders from local areas to the main trailways. Or, in some ways, we have to think about getting riders off the main trailways to the establishments that need snowmobiling monies for winter survival.
We view the Bearcat Groomer Special as a specialty product that recognizes a need and fills it. The small clubs like those in my New England homeland now have a vehicle that includes a specialized groomer that can maintain narrow sled lanes that feed into larger networked groomed trails. In the populous areas of the Midwest, the Groomer Special can be used to maintain feeder trails off the main trailways into a trailside network of restaurants and lodging.
What we see with the Groomer Special is some actual thought into what is necessary to solve the needs of the snowmobiler. While the Arctic Cat unit is built off the basic Bearcat Z1 XT utility model, the Groomer Special version is outfitted specifically for grooming. Depending on the groomer unit utilized, the Groomer Special can be fitted with a "fifth wheel" type hitch that disperses the weight of the groomer and its load over the sled's backbone. There's the high mounting of an amber warning beacon and the console mounted grooming switches that meld with the sled's integrated wiring. This is a professional application. We see the Bearcat Groomer Special as being quite well thought out and tested in actual trail conditions before being introduced.
Let's give Arctic Cat credit for some bold thinking and willingness to do, what we think, was the "right" thing to do. This is not lip service but actual snow boots on the ground action.
At the heart of the Groomer Special is the Bearcat Z1 XT and its 1056cc four-stroke twin. This engine is a key player in the Arctic Cat of 2012, as it effectively becomes the company's replacement for virtually all its 600cc two-strokes. As the heart of the Bearcat groomer, the Suzuki-built twin demonstrates its versatility. It accepts its role with a geared down drive system that features a six-post, rpm-sensing drive clutch and the "diamond drive" secondary. The power goes to a 20-inch wide rubber track that stretches 156-inches in circumference. The gripper lugs stand 1.25-inches tall.
The Groomer Special is a workhorse version of the Z1 XT Limited, which blends utility with occasional touring. The workhorse may share features with the Limited, but its main concern is function. There is a huge windscreen with extra bracing in the center and the use of rearview mirrors like the Limited. The styling lines are shared up to the driver's seat, but where the Limited adds room for a passenger (or two), the Groomer Special lies barren with a beacon rack and an open deck. There's a front winch with controls mounted within reach of the driver.
The rear suspension offers articulation so the driver can back up and over obstacles. There's a standard pintle hitch, rugged and robust for serious hauling. But if you opt for the complete groomer package and get the specially built tow-along groomer, you can get the tunnel-mounted swivel hitch that allows you to cut tight turns on narrow trails. Since Arctic Cat engineers anticipated a heavy-duty cycle, the sled features an underseat radiator to manage the needs of a hard-working drivetrain.
There's a 17-gallon fuel tank to keep the sled working on the trail. A rear power outlet accommodates a groomer operator's needs. This sled is about work and satisfying the needs of those who maintain specialty trails.
Who would buy this sled? Snowmobile clubs that must maintain narrow trails will find this setup a great answer for their needs. An entrepreneurial snowmobiler might find this package just the answer to setting up a network of clients off a main trail network who want to entice business to their gas station, store, tavern, motel or restaurant. Where a single business couldn't justify the cost, a network of like-minded businesses could make such a groomer package cost-effective.
Maybe the question wasn't raised before, but Arctic Cat certainly has come up with a great answer for those who need a well-constructed, well thought-out downsized groomer.
2012 Arctic Cat Bearcat Z1 XT Groomer Special Specs
Engine
Arctic/Suzuki 1056cc, 4-stroke twin; electronic fuel injection with dual 48mm throttle body; CD ignition
Horsepower
125-130 (estimated)
Drive
Arctic rpm-sensing drive and roller cam secondary ACT drive system
Front Suspension
Arctic AWS VII A-arm suspension; hydraulic tube shocks with coil-over-spring; 8.5-inches of travel
Rear Suspension
Arctic articulating slide-action parallel rail slide with twin-tube hydraulic shock on front arm; 2-in diameter tube shock on rear arm; adjustable fiberglass overload torsion springs; up to 13-inches of travel
Length
137.0 in
Width
52.0 in
Ski Stance
Adjustable 40.0 – 44.0 in.
Track
20 x 156 x 1.25
Weight
NA
Fuel Capacity
17.0 US Gal
MSRP
US$11,999/C$14,499
Related Reading
2010 Arctic Cat Z1 Turbo EXT Review
2010 Arctic Cat Z1 Review
2009 Arctic Cat Bearcat Z1 XT Review