2012 Arctic Cat F1100 Sno Pro Review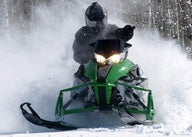 Will Cat win the 600 wars with an 1100cc four-stroke?
Arctic Cat's F1100 Sno Pro will be one of the most interesting snowmobiles for 2012. It combines a nifty trail performance chassis with a solidly reliable four-stroke engine. Our question isn't whether the F1100 will be a fun sled. We expect that. But how will it fare head-to-head with the likes of Ski-Doo's MXZ 600 E-Tec and the Polaris Rush 600? We just don't know.
Fast Facts
Engine Type:Horizontal In-line
Cylinders:2
Engine Stroke:4-Stroke
Valve Configuration:OHV
Displacement:1056 / 64.4
Starter:Electric
Turbocharged:No
View Full Spec
When you look at the pieces that surround the drive train, the F1100 looks like a real winner. There's that all-new ProCross chassis and the Arctic Race Suspension that scream: "Push me! Ride me hard!" And that's what we did when had our turn to ride the F1100 this past March in West Yellowstone.
We admit being confused on our first-ever F1100 ride. The early morning Yellowstone trails were incredibly well groomed and the corners had yet to be chewed up. Charging into the first few turns gave us pause as the skis couldn't get a bite and we got way, way less steering help than we anticipated. From there we rode more cautiously. But riding the ARS-front end sleds later in the day gave us the experience we expected. The sun had hit the snow, loosening up the corners and other riders had chewed into the turns giving the skis and carbides more to grip.
Some of that first reaction came from us expecting the all-new F1100 to handle the same as the previous generation F-series. The two sleds are quite different. And, frankly, while we liked the older Cats, the new one is definitely better. It's much lighter in the steering department. Maybe we weren't ready for that lighter feel first thing. We're going with us not appreciating the intricacies of the new Arctic Cat.
We also knew that the new F1100 came with a supposedly heavier four-stroke engine and weren't prepared to believe that it could be as light and nimble as we found it to be. We were mentally comparing the 2012 Arctic Cat F1100 Sno Pro with the likes of a Ski-Doo TNT 1200 four-stroke, a one-liter Yamaha Nytro four-stroke or a Polaris turbo four-stroker. Those sleds tend to be heavier handlers with more need to shove body weight into the handlebars. The Cat hits the turns like a nicely balanced two-stroke middleweight where it has the prowess of a Ski-Doo MXZ two-stroke.
Race Breeding Shows
Handling-wise the F1100 showcases serious racing heritage that comes from seasons of Team Arctic developing a sled that can handle the trails as readily as a full-on terrain sled. For us, while we can enjoy a good televised snocross event, we feel strongly that old-fashioned cross-country terrain racing is a better path for developing a true trail performance sled. Terrain racing requires sled and rider to work at full throttle in ditch lines, down hard-packed county roads, flying over concrete-hard road approaches, and plowing through lake bed snow. When a sled runs in cross-country events it replicates your world, but at higher speeds.
The F1100, which is the short-tracked version of the new ProCross platform, measures 118-inches with a 48-inch width. Cat's widely separated A-arms in the new ARS front end can stretch the skis outward from 42 to 43 inches, depending on your preference.
Underpinning the shorter chassis is a familiar Arctic Cat FasTrack slide rail rear suspension that has been recalibrated to give you a controlled 13.5-iinches of travel. The evolution of Cat's rear suspension includes a new Tri-hub rear axle system, a smoothly coupled connection with sliding blocks, a torque-sensing link and readily adjustable torsion springs. Controlling the ride is left to an internal floating piston Fox 2-inch diameter shock. The front suspension allows up to 10-inches of travel controlled via Fox Float shocks.
With all of its ergonomic creativity, the F1100 proved surprisingly adept on the trail. We say "surprisingly," because we automatically reserved a bit of forgiveness because this is a four-stroke, not a two-stroker, which we expect to handle well. Get over ourselves, already!
"600" Class Player
Don't think of the F1100 Sno Pro as anything other than a legitimate "600" class competitor. The Arctic Cat F1100 Sno Pro can play lead, follow or get out of the way with any other trail sport sled made for this season. The sled handles. It has a Ripsaw track with a 1.25-inch lug height that grips.
We do have an ongoing reservation and it sits under that wonderful Arctic Cat handlebar with its just right curvature that fits you whether standing or sitting. Our reservation is the Suzuki-built, 1056cc, liquid-cooled, four-stroke, twin-cylinder motor. Yes, it is a very well proven power source. It has no discernible flaws as it's precisely fuel injected and has a state-of-the-art transistorized ignition. But, we found the big twin to be a bit lazy under the throttle thumb. This is a great motor in the touring sleds. It has wonderful drive away based on its linear torque character. And that's our bias. We've come to expect our sport 600s to rev fast and spit snow as we watch the tach jet up to four-digit numbers. The Cat 1100 doesn't lumber, but it just seemed a bit lethargic.
Will other riders feel as we did? And how much was the big twin giving up to the Denver-like altitude in which we were riding? We fully expect the F1100 Sno Pro to be a much better runner in the sea level atmosphere of the Midwest. Plus, in a couple of years we expect Arctic Cat will replace this Suzuki-built twin and drop its own Arctic Cat engineered and manufactured four-stroke engine into this chassis. We also expect that motor will make even bigger power than the 125-ish horsepower available from the current 1100.
Overall, the 2012 Arctic Cat F1100 Sno Pro will fight a very good battle in head-to-head showdowns with its two-stroke competition. The all-new ProCross-based F1100 Sno Pro is an excellent overall ride. Yes, we have a reservation on some performance levels, but that aside, Arctic Cat engineering has come up with a big winner for the real world of terrain performance riding.
2012 Arctic Cat F1100 Sno Pro Specs
Engine
Arctic/Suzuki 1056cc, two-stroke, liquid-cooled, twin; dual 48mm throttle body electronic fuel injection
Horsepower
125
Drive
Arctic 6 post rpm-sensing drive with 10.75-in Arctic roller cam driven
Front Suspension
Arctic Race Suspension (ARS) twin A-arm suspension; Fox Zero Pro shocks with stabilizer bar; 10-inches of travel
Rear Suspension
Arctic FasTrack Slide-Action parallel rail slide with coupling blocks and Tri-Hub rear axle assembly; adjustable torsion springs and Fox internal floating piston gas tube shock; up to 14.5-inches of travel
Length
118.0 in
Width
48.0 in
Ski Stance
Adjustable 42.0 – 43.0 in.
Track
15 x 128 x 1.25 Ripsaw
Weight
NA
Brake
Radial master cylinder hydraulic with rotor on driveshaft
Fuel Capacity
10.6 US Gal
Features
Standard: digital/analog tach & speedometer with dual stage trip meter; Electric gas gauge; clock; mechanical reverse; key start; dual halogen headlight; Optional: hitch; 2-up seat; heated seat; sport bumper; engine heater; tank pads; optional windshield sizes
MSRP
US $10,899
Related Reading
2012 Arctic Cat F1100 Turbo Sno Pro Limited Review [Video]
2012 Arctic Cat XF1100 LXR Review [Video]
2012 Snowmobiles of the Year: Best of the Flatlanders