2012 Arctic Cat M1100 Turbo Sno Pro Review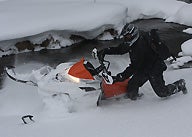 The first serious production turbocharged mountain sled
We love an insanely fast fighter jet. We all crave power for vertical climbs into the stratosphere. Being a typical Middle Class dude living in Southeast Idaho, I can't afford an F-22 Raptor. I suppose, you can't either. Yet, Arctic Cat has helped us earthlings be a pilot for a day and more. Throttle up an M1100 Sno Pro turbo from Arctic Cat and feel F-22-like G-forces for the snow.
Fast Facts
Engine Type:Horizontal In-line
Cylinders:2
Engine Stroke:4-Stroke
Valve Configuration:OHV
Displacement:1056 / 64.4
Starter:Electric
Turbocharged:Yes
View Full Spec
We reported earlier about Cat's new ProClimb M8 chassis. Sr. Editor Jerry Bassett has discussed Cat's new ProCross chassis; these two chassis are wholly alike with vastly different missions. Call it, "The same, but not."
But, what about this turbocharged Suzuki four-stroke twin in the ProClimb chassis? Let me answer this with an analogy. We know that four quarts of water can't be crammed into a two-quart pitcher. Cat, looking to save money by building a common chassis – as the other OEMs have done for several years now – was able to, with turbocharging, cram four quarts into two quarts. That's what it's all about. Coming up with a common chassis that houses a large turbocharged four-stroke with all its wiring and plumbing is beyond mechanical engineering 101.
Since its inception, Arctic Cat, with its big twin four-stroke turbo, has dominated grass and asphalt drags with its Sno Pro 1100; fastest production sled (in stock form) in the World, as Cat and others declare, with the evidence to support this. With this success, Cat looked to show its three competitors that a full factory-built turbocharged monster sled is right for the public.
Four-stroke mountain snowmobiles are not new to the mountain rider. Yamaha has been building such for years, beginning with the RX-1 Mountain, then Apex MTX and now the Nytro MTX. Yet, none of these come assembled from the factory with a turbocharger. (Though Yamaha is offering a turbocharger or a supercharger as an accessory for its 2012 Nytro MTX 163, which must be dealer installed.)
Here in a snapshot is the M1100 Sno Pro 162 and its twin, the HCR, which is also is turbocharged and is similar to the M1100 turbo Sno Pro except for some titanium parts and wider ski width.
The turbocharged M1100 Sno Pro, Limited, HCR, 50th, and all non-turbo models come in one track length only – 162. There is no 153-ish, though I deeply wish there was, especially for the HCR. That simplifies the buying decision. But, you must decide between housecat meows or mountain lion roar. But, this isn't a big surprise, as the M1000's last two years was as a 162 Sno Pro. (I'm still in therapy knowing my champion M1000 received its pink slip.)
Stuffed into the ProClimb chassis is the Arctic Cat and Suzuki designed two-cylinder four-stroke that squares out with a bore and stroke of 98 x 70 mm. Its displacement is 1056cc. A single – just one – 46mm throttle body feeds the big twin. The liquid cooled motor is lubricated through a dry sump. The actual turbo unit is mated to a stainless steel exhaust.
All the turbo boys share the same drive and brake systems, a six-post (rpm sensing) drive clutch, a 10.75-inch diameter roller cam driven, and a radial master cylinder hydraulic brake with the disc on the crossover drive shaft.
Front suspension travel is 9-inches with the rear suspension traveling 16.5-inches. Bump soak on the rear is controlled by the M rear suspension with a Fox Zero Pro (IFP) shock on front arm and a Fox Float 2 shock on the rear arm. Likewise up front, the Arctic Race Suspension is coupled with Fox Float 2 shocks and a sway bar. The HCR uses Fox Float EVOL shocks rather than Float 2s. Ski-width M1100s is 40- to 41-inches adjustable, except for the HCR which is 42- to 43-inch adjustable.
Standard features for the M1100 include: front sport bumper, electric start, low-height windshield, deluxe digital/analog gauge, electric gas gauge, low oil pressure light, coolant overheat light, clock, accessory outlet, high/low hand and thumb warmers, heated seat, hand guards, front sport bumper, and ice scratchers. The hand guards though are only available on the Limited. The heated seat is void on the HCR, a weight savings for the racer model.
Did you pick up on the perks? If not, then in repeat, ice scratchers, clock, accessory outlet and a heated seat (sorry HCR riders, no added weight for your racer). Now, being us baby boomers have come to cherish our heated handlebars, having a big four-stroke turning a big generator which throws a lot of wattage, a heated bun warmer is, well, far out.
The ProClimb engineers, sticking with the mission of common chassis, had to work hard to build a chassis that would accommodate a twin-cylinder two-stroke, as well as the hefty two-cylinder four-stroke. Given that, the M1100 remains narrow. However, it has a Yamaha Apex feel to it, if I could draw somewhat of a familiar comparison. The M1100 does not have the horizontal steering post like the M8 Sno Pro; the motor and its plumbing maxed out the room. Also, unlike the M8 Sno Pro, the M1100 does not have the telescoping handlebars.
The M1100 is a happy motor when boost is on the happy juice. The motor hits the arms and wrists with shoulder-dislodging pull. When full on, the sled is goose down light, horsepower and torque keep the power-to-weight at a minimum. The sled will roll into a sidehill with ease. But, if lopping along at a slow gait, like 10 mph or less, and the single throttle body is rapidly pinched closed, bring land speed down to zip, a rider – me – topples over the handlebars and hood. This is reminiscent of RX-1 Mountain days; the motor brakes hard.
For meadow bashing and trail slamming, the M1100's laydown steering post feels natural with its fixed height, but I feel for explosive tree running a vertical post that is telescoping would help the rider maneuver the heavier-than-M8 deep-powder stomping. But readers, this can't be, as the chassis has no room for M8 Sno Pro steering. Now, the M-series engineers knew this would be a complaint for some, so they concentrated on balance to help the rider and its vehicle hit the sweet spot. So, my nit mentioned above is nearly erased as the sled is nicely balanced through the bars.
The M1100 is going to humble many chutes in Canada, Colorado, Utah, Montana, Washington, Oregon, Idaho and Wyoming. Aftermarketeers with boost controllers and EFI maps are going to amp up the motor to bust out insane horsepower and torque, 220 horses will be just dollars away. I believe Arctic Cat will be pleasantly surprised at the attention its M1100 turbo sleds will receive from the tuner dudes.
The M1100 turbo has chocked off the bandwidth for many chat rooms. At the West Yellowstone World Snowmobile Expo, March 2011, the line formed by the curious stretched around the OEM exhibitors to the point where Cat front men were exhausted. The excitement is dripping from the sweaty horsepower junkies.
My time on the M1100 proved these facts. Down the trail it is hot sauce fast. Through the Goliath whoops, it is scary smooth and in-control. When pulling the nose around in a deep-powder turn on a sassy 30-degree slope, the nose obeys throttle and driver input. The narrower ski-stance is a must. The 2.25-inch Power Claw track works well and handles the power with ease. But, for this kind of horsepower, the lugs may need to grow a half-inch to 2.5-inches.
I am proud of Arctic Cat for stepping out of the norm and offering a muscle sled that is unlike others. Will the consumer flock to it? I say yes. Will sales equal the M8 Sno Pro? Maybe, maybe not. Regardless, a new niche is carved out and Cat will be the profitable recipient.
Added Impressions
Test Rider Kevin Allred
My time on the ProClimb M1100 Turbo at West Yellowstone and Island Park, Idaho was limited due to the fact while at West, I fell ill for part of the evaluation period. At Island Park, several weeks later, the demo M1100 Sno Pro Turbo coughed up a coolant leak, yet with the time I had, I rapped knots on the boosted four-stroke's head.
I learned the M1100 Sno Pro, though heavier than its sistership, the M8, responded very well to back country handling due to the fact the ProClimb chassis is well-balanced; Cat's engineer's thought through this mountain sled. This snowmobile is not a stretched trail sled or crossover, it is pure mountain.
When the big M's boost hits its stride, the 1100 ProClimb chassis is scary fast, and is sure-footed on the bumpy trails. Will this sled conjure a fan base? Yes. This factory-built turbo will appeal to those mountain riders who like banging on the big long hills – where turbo power dominates – and who like modern four-stroke technology that can be pumped up with aftermarket fuel and boost maps.
Arctic Cat did not build a one-year wonder. Cat's M1000 Sno Pro in the original M chassis was a success, and I believe this sled will follow the same success path.
2012 Arctic Cat M1100 Turbo Sno Pro Specs
Engine
Turbocharged Arctic/Suzuki 1056cc, four-stroke, liquid-cooled, twin; 46mm throttle body, electronic fuel injection
Horsepower
177-plus (on 91 octane fuel)
Drive
Arctic 6-post RPM sensing drive with Arctic roller cam driven
Front Suspension
Arctic ARS A-arm suspension; Fox Float shocks; 9.0-inches of travel
Rear Suspension
Arctic M long travel parallel rail slide rear suspension with tri-hub rear axle; Fox Zero Pro shock on front arm and Fox Float on rear arm; up to 16.5-inches of travel
Length
130.0 in
Width
46.0 in
Ski Stance
Adjustable 40.0 – 41.0 in.
Track
15 x 162 x 2.25 Powerclaw
Weight
NA
Fuel Capacity
10.6 US Gal
MSRP
$13,999
Related Reading
2012 Arctic Cat ProClimb M800 Review [Video]
2012 Arctic Cat F1100 Turbo Sno Pro Limited Review [Video]
2012 Arctic Cat XF1100 LXR Review [Video]
2012 Snowmobiles of the Year: Best of the West