2013 Arctic Cat XF800 LXR Review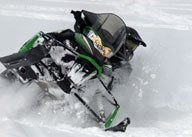 This is the trail Cat we want
Let's agree that the idea of sport trail sleds now means a "stretched" track model instead of the short-tracker most flatland riders started out on. When it comes to Arctic Cat, which entered the 2013 model year with its second season of all new tall spindle ProCross chassis sleds, there is no two-stroke option in the 120-horsepower category. Cat uses a Suzuki four-stroke twin to compete in that class. While it's certainly adequate and gets the job done well enough, we have decades of two-stroke sports riding and old habits die-hard. And, since we are opting in on the 141-inch stretch tracked Cat, we feel we can handle the 800cc two-stroke twin and its very controlled 160-horsepower. The 2013 Arctic Cat XF800 is the Cat for us, but since we like to tinker less and stow more, the LXR version would be our first choice.
Fast Facts
Engine Type:Horizontal In-line
Cylinders:2
Engine Stroke:2-Stroke
Valve Configuration:Reed Valve
Displacement:794 / 48.4
Starter:Electric
Turbocharged:No
View Full Spec
The main differences between the LXR version and the Sno Pro bottom lines to rider perception. Do you see yourself as the aggressive, hard charging type of rider who wants to finesse the shocks and can feel the added grip of a 1.5-inch lug height? Or, are you the matured rider with aggressive ride-hard tendencies who knows that he wants to kick back on the trail and is willing to give up some shock tunability in favor of making fewer suspension changes that a top line Fox Zero Pro gas shock will require? When it comes to riding, we like to be in the saddle, not changing air pressures on our suspension's air shocks as we hunt for that little extra edge in handling and ride over deep moguls. And we can admit that a track with 1.25-inch lug height will be perfectly fine.
The Arctic Cat Sno Pro versus LXR versions is exactly what we'd like to see all other sled makers do. When we say "all others," we're really thinking of Ski-Doo and how it handles the MXZ versus GSX series. For us, Arctic Cat seems to actually understand what we want as a sport rider. The Sno Pro compares well to the Ski-Doo MXZ line as they are both designed to let a buyer showcase his alpha dog tendencies as a snowmobiler. What we appreciate with Arctic Cat is how the company recognizes that an LXR buyer has alpha dog bite, too. Basically the Sno Pro and LXR packages are suitable without being insulting, which is how we view the Ski-Doo GSX model. Cat's XF models are essentially the same sled, as are the MXZ and GSX. But we don't feel our manhood threatened by Arctic Cat.
The LXR designated version gets premium shocks of the "set'em and forget'em" kind. The track is a tad less aggressive, but it still bites and grips. The riser bar sits two-inches shorter, but both handlebars are adjustable and have Cat's nifty curvature design for spirited interaction. We feel that Ski-Doo goes away from the MXZ's macho sport persona when it outfits the GSX. But, we've had that discussion with Ski-Doo and don't get into with Arctic Cat because the LXR mode satisfies our needs very well, We can be aggressive on or off trail and can enjoy the benefits of a quick, but quite civilized sport model.
Arctic Cat's LXR excels on trails whether they are freshly groomed or end-of-the-day tired. We give that benefit to the unheralded Fast Track rear suspension. It doesn't have cleverly colored adjusters on the runningboards to tune suspension components. Nor does it have an externally mounted shock and a terrain-dominating nomenclature. No, the Arctic Cat rear suspension on this 141-inch tracked on-off trail snowmobile simply has as good of an overall rear suspension as you're going to find in 2013. It gives you up to 14.5-inches of mogul-absorbing travel that is controlled via Fox internal floating gas shocks and adjustable torsion springs. It features proven and effective design that allows fine-tuning to set your ride exactly how you want. There's a sliding action coordinated between the front and rear portions of the suspension that provides a coupling effect that can reduce ski lift under hard acceleration and apply ski pressure necessary for aggressive turning when decelerating. You'll also find Arctic Cat's unique Tri-Hub rear axle assembly that minimizes the number of suspension wheels while locating and supporting the track for sport type riding.
The front suspension with its 16-inch spindle assembly has become a "signature" of the new ProCross chassis. This Arctic Race Suspension (ARS) reflects the blending of the needs of a high performance racer with the reality of everyday trail riders. Arctic Cat engineering's concept brings together tall A-arms, which immediately identify this as an Arctic Cat, with A-arms that can be spaced out to enhance strength and torsional stability that you want when being aggressive in and out of the corners. You'll note that the ARS spindles are a one-piece design with an integrated ball joint that helps cut weight. If you check the specs on this sled, you'll note a ski stance that can range from 42 to 43 inches in center-to-center distance. That all depends on how you attach the skis for extra or narrower width. The Arctic Cat Trail ski used on the LXR features a dual runner with carbide, which helps prevent the ski from on-trail darting and reduces steering effort. The Sno Pro gets a single runner with carbide for more aggressive steering.
While we can zero in on the benefits of the Arctic Cat suspensions, how rider-friendly and efficient they are, we have to tell you why we would go with the 800cc two-stroke twin. The first time we ever rode the new breed of Arctic Cat 800s, we were struck with how incredibly versatile they were. We deliberately piddled around for a time at boringly slow granny speeds. Then we pushed in the throttle flipper, which we must say was smooth and unexpectedly light. But that's the nature of today's computerized electronic fuel injection systems. They are positive and instant. It's amazing how efficient throttle response has become. Yet, the Arctic Cat two-stroke twin's electronics have masterfully reined in the engine's 160 horses, keeping them on the ready for a long straight or full throttle off-trail run in fresh powder.
As Arctic Cat will soon go away from Suzuki supplied power and rely on engines of its own design, all we can say is the next breed of Arctic Cat engines has a lot to live up to as the Suzuki 800 (actually 794cc based on a bore and stroke of 85mm by 70mm) supplies idle to wide open power that is at the heart of what makes this 2013 XF800 LXR such a kick. Look at the technology with this engine: lightweight crank designed to rev quickly; Arctic Cat's innovative batteryless electronic fuel injection; Arctic's own electronic exhaust valve system that gives you strong low end without sacrificing midrange and top end performance; an exhaust sensor that gives the engine's computer critical performance information; dual spark plug heads; an engine octane sensor; and pushbutton electronic reverse. Truth is, you'll never think about any of those features because you'll be too busy enjoying your ride.
The LXR gives you confident comfort every time you head off. This Cat has a rear storage bag nestled in behind the rider-forward positioning seat. Of course, your Cat dealer has more storage options if you need them. There are optional features, but we find the "basics" of the XF800 LXR meet our needs exceedingly well. The windshield suits us as its not too tall, but it's capable. While we admit to being the type to ride groomed trails more often than heading off trail, we appreciate the riding position that lets you sit back for cruising and working esses all the while waiting for you to stand up to attack a rutted out section or work unbroken snow off trail.
For model year 2013 the 800-powered Arctic Cat XF800 LXR really speaks to us and we like what is says.
2013 Arctic Cat XF800 LXR Specs
Engine
Arctic/Suzuki 794cc, two-stroke, liquid-cooled, twin; dual 48mm throttle body electronic fuel injection/TD>
Power
160 hp
Drive
Arctic 6 post rpm-sensing drive with 10.75-in Arctic roller cam driven
Front Suspension
Arctic Race Suspension (ARS) twin A-arm suspension; Fox Zero Pro shocks with stabilizer bar; 10-inches of travel
Rear Suspension
Arctic Fast Track Slide-Action parallel rail slide with coupling blocks and Tri-Hub rear axle assembly; adjustable torsion springs and Fox internal floating piston gas tube shocks; up to 14.5-inches of travel
Length
125.0 in
Width
48.0 in
Ski Stance
Adjustable 42.0 – 43.0 in.
Track
15 x 141 x 1.25 Cobra
Weight
NA
Brake
Radial master cylinder hydraulic with 8-inch diameter rotor on driveshaft
Fuel Capacity
10.6 US Gal
Features
Standard: digital/analog tach & speedometer with trip meter; Electric gas gauge; clock; mechanical reverse; key start; dual halogen headlight; rear storage bag
MSRP
US $12,249
Related Reading
2013 Arctic Cat ProClimb XF1100 Turbo Sno Pro High Country Review
2013 Arctic Cat XF1100 Cross Tour Review – Video
2012 Arctic Cat XF1100 Turbo Sno Pro vs. 2012 Arctic Cat XF800 Sno Pro
2013 Ski-Doo GSX Series Review
2013 Ski-Doo MXZ TNT 800 E-TEC Review – Video