2013 Arctic Cat F1100 LXR Review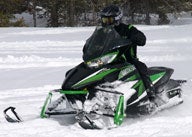 This sled works well on the trail, but we'd like more performance feel
Arctic Cat's reality works better than its perception. The 2013 F1100 with the Suzuki-sourced one-liter, four-stroke twin gives the new ProCross chassis and Arctic Race Suspension front-end ample power for play. That's the reality. The sled does virtually everything a "600" class rider will want. Still, the perception lingers that the four-stroke is heavier, less responsive and a bit sluggish compared to two-stroke competitors such as the Polaris or Ski-Doo.
Fast Facts
Engine Type:Horizontal In-line
Cylinders:2
Engine Stroke:4-Stroke
Valve Configuration:OHV
Displacement:1056 / 64.4
Starter:Electric
Turbocharged:No
View Full Spec
The only way to change perception to reality is for more riders to switch over. They'll have to come over from Polaris or Ski-Doo. Yamaha after all has the same issue as Arctic Cat. Its trail sport models are all four-strokes of similar displacement, so, no help there.
We've had the opportunity to test ride and review the Arctic Cat "600" class entrant on many occasions in the past two seasons. This past season we felt that the non-turbo F1100 handled the trails as well as any competitive models from Ski-Doo's MXZ group or Polaris' Rush line.
Frankly, we went on our test rides with a bit of an attitude. After our first ever rides of the first-year F1100 four-stroke we felt totally ambivalent about its performance. We were in West Yellowstone where the town sits higher than Denver and the average elevation is around 8,000 feet. While the turbocharged four-stroke may not care about elevation changes, the non-turbo motor clearly does, even if its electronic fuel injection constantly monitors and compensates for such changes. We thought the 1100 twin seemed lazy. Oh, it was smooth enough and it would get you down the trail well enough, but compared to Polaris's Cleanfire 600 or Ski-Doo's 600 E-Tec is was uninspired.
We gave that first year effort good marks for the chassis and suspensions. Arctic Cat engineering did a terrific job as the sled feels light, nimble and rides as well as the latest "trick" suspensions of Polaris' Pro-Ride or Ski-Doo's rMotion. Sorry, guys, but the Arctic Cat FasTrack unit really does a great job sorting out stutter bumps and cushioning deep pocked trail moguls.
When Polaris first brought out its new ProRide design for the Rush, we compared that sled with an Arctic Cat Sno Pro model over a particularly nasty trail section. This was a section with bumps lying up to two-feet deep with steep tops to kick in rebounding shock tubes. The ProRide gathered in the stroke for the depth, but couldn't react quickly enough for immediate rebound action. The "old" Arctic Cat rear suspension proved a great surprise as it performed in these conditions far better than we could have imagined. It soaked up the big bumps as well as the ProRide, but had much quicker shock action to work the rebound and keep the sled settled through that nasty section.
Guess what we're trying to say is that Arctic Cat's rear suspension may not have the marketing hype of others, but it works as well – and better in some situations. We're believers in the way Arctic Cat spaces its rearmost axle, which we think is key to the suspension's great reaction in the rough.
The chassis tends to discretely break upwards at the point of chassis reinforcement. This is roughly where the triangulated supports come back from the steering post and a bit forward of the suspension's rear mounting. Arctic Cat has allowed the rear axle area of its suspensions great freedom of movement for years. This is one way how Arctic Cat manages to get such good suspension travel numbers. Keep in mind that Arctic Cat engineering has a long history of developing suspensions that work. If you track Arctic Cat history you'll see that its engineers developed the first successful slide rail suspension in the 1960s and have been working long travel, trail-absorbing suspension systems ever since. Yeah, did we mention that the guy who helped develop that slide rail system is still at Arctic Cat and oversaw the design of these newest models?
The front end may look a bit odd with its tall spindles and spidery A-arms, but it works well on everyday trails. It comes right from the Arctic Cat race sled, which is expected to handle deep ruts as well as miles of short stutters and ripples. This suspension of the LXR version works well. It can let you charge into a corner, maintain grip and let you steer in, through and out of it. Assisting the ARS front end are Fox Zero Pro gas-charged shocks and a swaybar to transfer ski action from side to side.
To complement the ARS' 10 inches of front ski travel, Arctic engineers allow the rear wheels to swing through 13.5 inches of rear action. The FasTrack attached to the F1100 LXR version is set for a more compliant ride than the Sno Pro. While it may be tuned more for maximum ride comfort to suit high-mile riders, there are no short cuts for on-trail performance. The rear hub features the newest Tri-hub design to maintain smooth interaction between the slide rail system and the track, which is new for 2013. A Camoplast RipSaw II design it comes with a 2.86-inch pitch. Grip is good, but there is slippage as the lug height measures one-inch versus a Sno Pro's 1.25 profile.
Arctic Cat suspension engineers work hard to balance action from front to back and incorporate coupling blocks and a torque sensing link that lets you fine tune the action you want. You can add extra ski pressure to keep the skis "grounded." Or you can back off for a "wheelie" effect. With the 1100 engine, we figure a moderate balance will work just fine. Adjusting for the full 177-hp of the turbo motors requires new thinking as a quick tug on the throttle lever could get the skis off the snow in a hurry. The base four-stroke doesn't demand that kind considerations.
We truly appreciate the low driveshaft-mounted disc brake, which sits out on the left runningboard. Arctic Cat's hydraulic brakes have been among the best for performance riders. This may be a bit much for the 123-hp LXR, but you'll be glad to have it when you make a mistake. It's a quick acting, sure stopping feature.
While we may find the F1100 LXR a bit modestly powered for our tastes, the same features that make the turbo and 800cc two-stroke models trail favorites with us are on the F1100. Arctic Cat's handlebar curvature and grips are not simply comfortable, but inspire hard riding as they are bent exactly right for sport riding on a tight trail. The seat is properly sized and both tall and angled to give you a great position in aggressive riding as well as pushed back plush for a hundred mile cruise.
As you'd expect this "luxury" model comes with standard fare to set it apart from the "sport" Sno Pro version. There is a taller mid-height windshield, electric heated seat and rear storage bag. Push-button reverse is standard along with Arctic Cat's deluxe gauge package.
Like us, we are sure that Arctic Cat fans are anxious to see how the company moves forward under the hood after four-decades of Suzuki power. Will it bring performance up a level in the "600" class, making the F1100 more competitive with the likes of the Polaris Rush and Ski-Doo MXZ 600s? The F1100 LXR offers a lot, as it is smooth, quiet and frugal with fuel. Its handling and ride are exemplary. We'd just like a bit more performance "feel" at the throttle. Maybe it's as simple as a more guttural exhaust sound or a little power burp. That's our perception. But our reality after riding the F1100 models was that it challenged the competition every and any time we wanted it to. Perception is that the F1100 could use more "pop." Reality is, it has it. But, just the same, how about pushing more rumble and attitude through that exhaust!
2013 Arctic Cat F1100 LXR
Engine
Arctic/Suzuki 1056cc, two-stroke, liquid-cooled, twin; dual 48mm throttle body electronic fuel injection
Power
123 hp @ 8500 rpm; 78.2 ft-lbs @8000 rpm
Drive
Arctic 6 post rpm-sensing drive with 10.75-in Arctic roller cam driven
Front Suspension
Arctic Race Suspension (ARS) twin A-arm suspension; Fox Zero Pro shocks with stabilizer bar; 10-inches of travel
Rear Suspension
Arctic FasTrack Slide-Action parallel rail slide with coupling blocks and Tri-Hub rear axle assembly; adjustable torsion springs and Fox internal floating piston gas tube shock; up to 13.5-inches of travel
Length
118.0 in
Width
48.0 in
Ski Stance
Adjustable 42.0 – 43.0 in.
Track
15 x 128 x 1.0 Ripsaw II
Weight
NA
Brake
Radial master cylinder hydraulic with rotor on driveshaft
Fuel Capacity
10.6 US Gal
Features
Standard: digital/analog tach & speedometer with trip meter; Electric gas gauge; clock; mechanical reverse; key start; dual halogen headlight; heated seat; rear storage bag
MSRP
US $10,799
Related Reading
2013 Arctic Cat XF1100 Cross Tour Review – Video
2012 Arctic Cat F1100 Sno Pro Review
2012 Arctic Cat XF1100 LXR Review – Video
2013 Yamaha Apex SE Review – Video
2013 Polaris 600 Rush Pro-R vs. 2013 Ski-Doo MXZ X 600 E-TEC
2012 Polaris 600 Rush Review
2012 Ski-Doo MXZ TNT 600 E-TEC Review