2016 Snowmobiles of the Year: Best of the Flatland
Our favorite 2016 sleds for the trails and flatland areas
There are unique aspects to modern snowmobiling that are reflected in the snowmobiles we can purchase. Today's deep snow sleds represent an experience that is totally different than the experience flatland sleds can offer. Today's fleet of flatland sleds must be among the most versatile of all snowmobiles, as they must be able to conquer a wildly divergent landscape that ranges from table-top smooth trails to sharp-crested risers to mile-long unplowed lake beds to bottomless off-trail snows. Flatland sleds are offered in configurations that offer minimal storage to full bagger touring models to extended length tracks with high profile lugs to air adjustable comfort suspensions and choices of two-stroke and four-stroke drive systems complete with multi-mode performance settings.
Model year 2016 offers up new ideas, innovations and some seriously fun sleds to ride. We truly were impressed at how the sled makers brought some fresh ideas in packaging components to create sleds that gave us more of what we could use on and off trail. In some cases, like Ski-Doo's Blizzard, adding a longer length 129-inch track to one of the sport's most popular trail sleds created a vastly improved ride experience. The ante was raised with the "adventure" sleds, but we found that some of that ante went to improve on-trail capabilities at the expense of off-trail and vice versa. Utility and touring sleds reflect the growing influence of snowmobiling's international marketplace.
But, when we looked at what we felt represented the best sleds of 2016, we reached into our test riding collective with its nearly 200 years of snowmobiling experience and arrived at this grouping of Best Snowmobiles of 2016.
2016 Snowmobile of the Year Arctic Cat ZR 8000 RR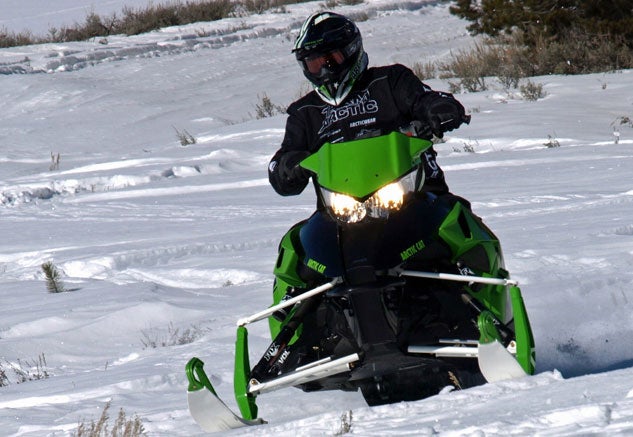 Our agreement on the 2016 ZR 8000 RR surprised us as much as the sled itself. But, we are in agreement that the most impressive 2016 snowmobile we rode at our annual ride evaluations was Cat's 8000 RR. In the recent past, race replicas such as the 8000 RR tended to be rides that wanted to crush your vertebrae because they replicated the ride and handling of full-on snocross racing models on which they are supposedly based. To Cat's credit, the 2016 RR models replicate the look and onboard ergonomic feel, but with a perfect blend of setup and appropriate on-trail nastiness that conjures a sense of the snocross racer with the controlled edge of incredible handling and performance. The 8000 RR features the Suzuki two-stroke that is both powerful and docile – two seemingly contradictory aspects of a race replica. We figure that the partnership between TEAM and Arctic Cat truly results in a partnership between the Suzuki's bold 160 horsepower and the control brought to the RR by TEAM's Rapid Response drive and driven clutch system.
Read our review of the 2016 Arctic Cat ZR 8000 RR
The acceleration off a turn and heading down a straightway is crazy. It's totally controlled, thanks to the fine tuning Cat engineering achieved with the Fox Float Evol RC shock controlled ARS front end and slide action tuning in the rear suspension that keeps the front end totally in touch with the trail regardless of your throttle thumb. Grip from the 1.25-inch lugs on the 129-inch Ripsaw track is consistent so you can trust the sled will do what you tell it and expect it to do. Add in the grip of the Procross 6 skis and you have a performance package that made the test riding crew trust and believe in what the ZR 8000 RR could do.
When test riders share the same story of totally controlled performance after their ride, you start to look deeper at the make up of the sled being ridden. The ZR 8000 RR epitomizes Arctic Cat culture where faster, quicker, smoother is the end game. The 2016 ZR 8000 RR is a pure throwback to the much-loved reign of the Firecat of the 2000s. But the 2016 Arctic Cat ZR 8000 RR is better in every way imaginable – faster, quicker and more controlled in ride and handling.
Our test crew crowns Arctic Cat's ZR 8000 RR the best sled for 2016.
2016 Best All-Around Trail Sport Yamaha Vector X-TX
Yamaha's 2016 Vector made an impression. The two key ingredients to any snowmobile are: engine and suspension. The Vector, pick any 2016 Vector, reflects an engine upgrade and an all-new SingleShot rear suspension, which makes the Vector one of the most improved sleds for 2016. The others include Ski-Doo's Enduro and new Blizzard models.
Since we didn't have any great – or modest – expectations of the 2016 Yamaha Vector, we can admit to being impressed with what we rode. The engine tweaks due to the addition of the Yamaha Chip Controlled Throttle added a new dimension to what we considered a solid, if not overly exciting, Genesis four-stroke engine. Throttle performance was greatly improved and noticeable right off.
Likewise, the new rear suspension, whether it was the standard SingleShot 129 or the SingleShot 146 used on the X-TX models, was an improvement. The use of the Fox Float 3 XV air spring with its twin chamber design allows you to custom tune your ride for virtually any conditions.
Read our review of the 2016 Yamaha Vector X-TX 1.75 LE + Video
Enhanced engine, new ride and handling parameters set the 2016 Vector apart from previous editions. Renowned for its quality, durability and reliability, the Vector has always appealed to value-conscious riders. The newest Vector, regardless of track length, takes a big step forward while offering the benefits of its electric power steering's lightness in tight trails. Our favored Vector is the new for 2016 Vector X-TX that puts an aggressive bite into the snow with its base 1.25-inch lug profile and grip of the exclusive-to-Yamaha Tuner skis, which you can customize to your personal preferences. But, for 2016 there was more than the basic flavor of Vector X-TX, the top line "LE," available as a Spring Buy only, came in a colorful maroon-red and offered up the 1.75 lugged track, plus Yamaha's Performance Damper system.
We enjoyed the Yamaha Vector even if it may not be the lightest sled in the trail sport category. Its standard EPS lightens the steering load and the latest engine updates and lighter weight SingleShot suspension really do make a difference in a rider's attitude to this tried-and-true model. Yamaha's Vector made a very good impression; good enough to make the 2016 Yamaha Vector X-TX our "best" choice for all-around trail sport.
2016 Best Adventure Snowmobile Arctic Cat XF 8000 CrossTrek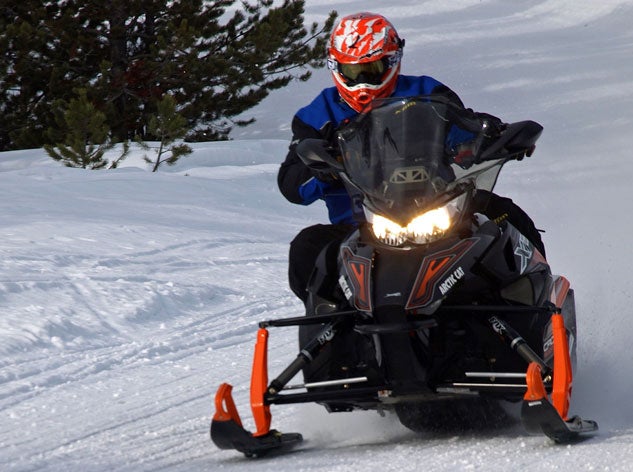 When it comes to the adventure category, we recognize that Polaris kicked off the trend with its Switchback-based Adventure models, first in 600cc trim and now with the latest 800cc Cleanfire two-stroke. Playing in this category are Ski-Doo's Enduro, Polaris' 800 Adventure and Arctic Cat's CrossTrek.
Our view is that an adventure sled should be more off trail than on and equipped for the vagaries of breaking trail in the backwoods of the flatlands. We almost immediately dismissed the Enduro due to its comfort-ride orientation and occasional off-trail capability. The Polaris Adventure slides in between the Enduro and Arctic Cat's CrossTrek, but while we view the Polaris as more off-trail capable than the Ski-Doo, our vote for best adventure sled goes to the one that was intended to get you off the groomed trail and into the boonies regardless of snow and terrain conditions. That's the Arctic Cat CrossTrek. Again we go with the 8000 CrossTrek due to its TEAM-controlled Suzuki drive system. Plus, the 2016 CrossTrek is fitted with the 137-inch Cobra track with the 1.5-inch lugs, not the tallest, but a very good all around choice for on or off-trail grip. The use of Fox Float 3 shocks on the front suspension means you can tune for big bang jumps or softer on-trail settings.
Read our review of the 2016 Arctic Cat XF 6000 CrossTrek + Video
Based on the XF platform, the CrossTrek reflects M-series DNA but adds nice-to-have features such as electric start, push button reverse, 12-volt power outlet and fixed 5.5-inch riser bar. On-trail considerations include collapsible rear saddlebags; not as nice as the Polaris Adventure set up, but useful. Although there is a protective 11-inch tall mid-height windshield, if your goggles get iced up or wet, there is a standard heated goggle holder.
Like Cat's RR, the CrossTrek represents Cat's approach to adventure snowmobiling, which is more off trail than and on and definitely more for true adventure seekers than adventure cruisers. Power, performance and off-trail prowess highlight this selection as best adventure sled for 2016.
2016 Best Personal Cruiser Ski-Doo Enduro 1200 4-TEC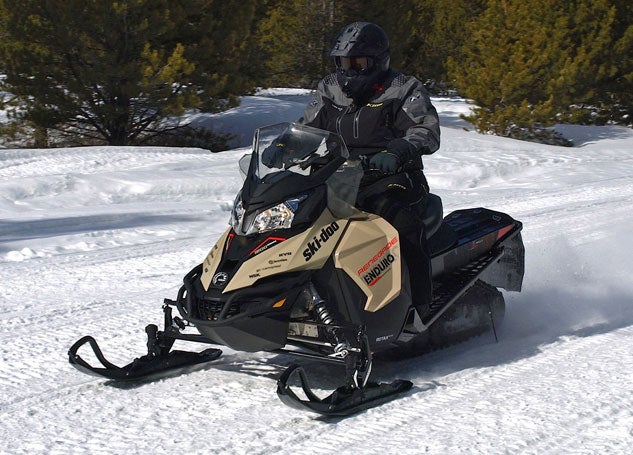 Ski-Doo's new for 2016 Renegade Enduro was created to be an adventure sled, complete with Renegade off-trail DNA and Grand Touring on-trail comfortability. While the GSX line of luxury comfort sport cruisers has vanished from Ski-Doo's model selections, the Enduro adds luxury to the sled's off-trail heritage. The air-adjustable rear suspension works off trail, but it is much happier being tuned for moderately groomed trails. Our pick for best Enduro has to be the newly upgraded 1200 4-Tec version, which gets a slight bump in overall performance, but a significant upgrade in rider-friendly cruising. With its three changeable on-the-fly modes that include a "max mileage" ECO setting, the Enduro 1200 4-Tec can be rider-tuned for smooth acceleration or aggressive sporty action.
Features like the air-adjustable rMotion rear suspension provide an excellent overall ride that complements the RAS2 front suspension and its HPG Plus gas shocks. To adjust on- or off-trail grip, there is Ski-Doo's proprietary and innovative Pilot TS adjustable ski that lets you drop or raise the ski runner by a half-inch. Very clever!
Read our review of the 2016 Ski-Doo Enduro 1200 4TEC + Video
You can take the Enduro off trail as it is, after all, a Renegade, but chances are that you'll enjoy its ride and handling on long cruises where you'll welcome the easy throttle pull of the 4-Tec's intelligent throttle control and the quiet but throaty sound of the upgraded four-stroke. The GSX may be gone, but its Enduro replacement is an entirely better package with more versatility for on- or off-trail riding.
2016 Best 2-Up Touring Ski-Doo Grand Touring SE 1200 4-TEC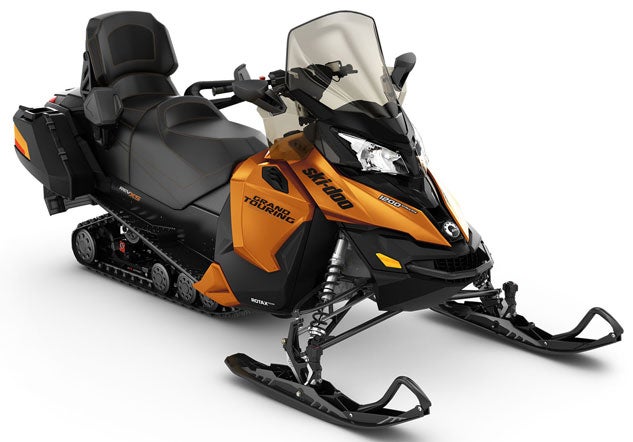 Season after season, no company has been more consistent in understanding the wants and needs of the touring snowmobiler than Ski-Doo. Consider what the 2016 Grand Touring SE offers: • 130-horsepower Rotax 1200 4-Tec three cylinder engine with 19 miles per gallon fuel economy potential • Change on the fly multi-mode engine performance • Light action intelligent throttle control; • Air-controlled rMotion rear suspension • Silentdrive track technology to reduce on trail noise levels • Heated seating for rider and passenger • Weatherproof side cases and a tunnel bag to maximize onboard storage
That doesn't include the slimmed down packaging of the new for 2016 Grand Touring, thanks to use of the REV-XS platform. Innovation continues with the inclusion of Ski-Doo's proprietary adjustable skis that allow you to move the ski runner up or down by a half-inch.
Read our review of the 2016 Ski-Doo Grand Touring SE 1200 4TEC + Video
Comfort rules for touring and the Ski-Doo Grand Touring is truly grand. It offers a passenger backrest, protected passenger handholds, stepped foot rail, and a tall windshield complete with rearview mirrors.
The 1200 4-Tec combines good top end with excellent drive-off and mid-range performance characteristics, both important to long-haul touring riders.
While there are other touring options for 2016, none do it as well as Ski-Doo's 2016 Grand Touring SE.
2016 Best Budget Buy Polaris 550 Indy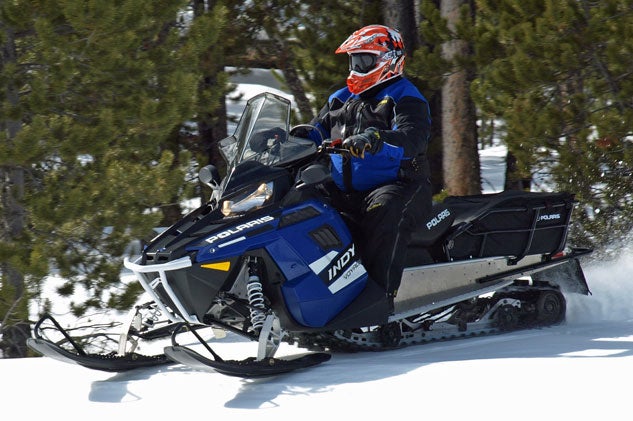 Pick a 550 Indy, from base model short tracker to 144-inch Voyageur version, and you'll have a winner for best budget sled. There are Indys for on-trail sport, two-up cruising, off-trail adventure and backwoods utility. The basic, no nonsense 550 Indy retails for US$6599, but you may find it for less depending on seasonal rebates or special incentive programs.
Beyond the pricing, we find the budget Indy 550 offering a decent power to weight ratio, based on its 55-plus horsepower and relatively light 422-plus pounds claimed weight. Clutching for the Fuji-built two-stroke fan-cooled 544cc two-stroke is a virtually bulletproof Powerbloc system and air-cooling requires no back up radiators or cooling extrusions and such. The downside, of course, is the old school technology of twin 34mm carburetors instead of more modern electronic fuel injection.
Read our review of the 2015 Polaris 550 Indy Adventure 144 + Video
The suspensions are straightforward and older, but proven Polaris designs with a Pro-Ride double A-arm front end that offers 7.1 inches of shock-dampened travel. The rear suspension is a dual rail coupled design with nearly 14 inches of travel, but the action is old school and not the more compliant ride of newer Polaris AXYS suspensions.
The 550 Indy offers value and is an excellent platform on which to learn or hone riding skills. You'll find that dollar-for-dollar, the 550 Indy will provide ample on-trail entertainment and can be a sled to take you up to more performance or level off as a very fun to ride unit that allows you to enjoy various winter outings. On the straights it will compete with other fan-cooleds, but fall far behind modern 600 category sport sleds. However, in the twisties, you'll get amped fighting those 600s thanks to the Indy's light and nimble personality.
For budget conscious riders, the 2016 Polaris 550 Indy is a delight and best choice option.
2016 Best Utility Yamaha VK Professional II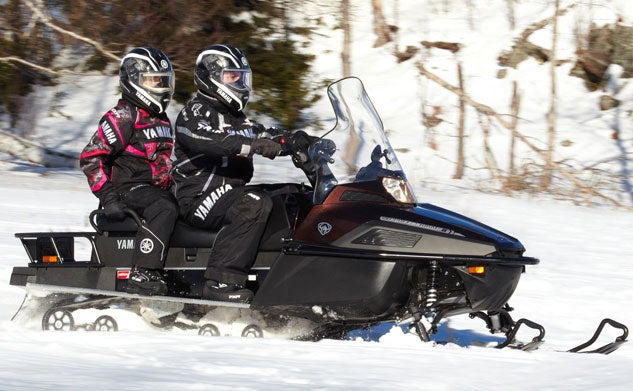 Add a flashing amber light atop a tall light bar and we'd love the all-new Yamaha VK Professional II as much as our favorite trail commander, Arctic Cat's Bearcat XT GS. But for sheer utility and seriousness of design, how can you not like the new VK, which was engineered with rugged Siberian winters in mind. Yamaha allowed the experts in such winters to help design this all-new rugged product, which features a total revamp of the previous VK. You'll see a wide, tall and totally functional wrap-around style windshield that is designed to deflect wind, low-hanging limbs and backcountry brush. The rearview Workforce mirrors are bigger than previous versions and, to help protect them from collecting tree branches, they are mounted inside the new windshield.
Power rules in the backwoods and this edition of the working Yamaha gets the latest edition of Yamaha's 1049cc three-cylinder Genesis motor, which means a strong torque curve for a significant upgrade in midrange performance. Power is transferred to the VK's 20-inch wide by 154-inch long Cobra track via a hi-low with reverse gearbox.
This sled is also about working comfort and features a totally new seat for easier on and off movements, as well as voluminous underseat storage. A high-capacity cargo rack means you can carry more gear and a larger capacity fuel tank means you can carry it further than before.
The 2016 Yamaha VK Professional II total redesign should tide this sled over well into the next decade. Now how about that cool amber flashing light bar?
Agree or Disagree
So, there you have it. Disagree or agree, but this is how we see it. Obviously there are some serious honorable mentions. We figure that the addition of the 129-inch track to select MXZ models and the subsequent re-introduction of the Blizzard name are worthy of mention. Then, of course, there are nifty innovations like Ski-Doo's adjustable ski, Yamaha's YCCT system, expansion of Polaris' top of the line 800cc Cleanfire and the AXYS platform. Oh, wait, our Western test riders, covered that, right! The bottom line is that there were notable enhancements to the sleds we ride, which should mean that model year 2017 should be ever so much more fun. But that's another story for next year at this time. Enjoy what we have here and now; it is very good.