2016 Snowmobiles of the Year: Best of the West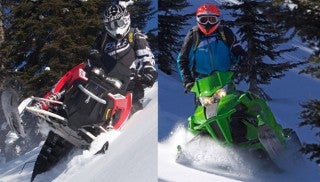 We pick our favorite western sleds of the year
Hay Days is upon us, the fall classic snow shows are also fast approaching and with that, the Holiday feeling is in the air. That is, the Holiday break from summer to enjoy winter.
It is at this time the editors at Snowmobile.com present their best-of-the-best choices for Mountain Snowmobile of the Year, Most Improved Mountain Snowmobile of the Year, Best Four-Stroke Mountain Snowmobile of the Year, Introductory Snowmobile(s) of the Year, and Deep Powder Crossover Snowmobile of the Year.
We also, for intellectual purposes, throw down a few thoughts on other groundbreaking tech and decisions made by the manufacturers. Let's hit with the headliner – our choice for Mountain Snowmobile of the Year – and move on through our "best of the best" list.
2016 Mountain Snowmobile of the Year
Only a goof ball would not see it this way. Without hesitation we give this to Polaris' 2016 AXYS Pro-RMK. Polaris continues to plow through the market in full throttle mode. It may be said that Polaris is moving so fast forward; it blew off its rear view mirrors. Is there another OEM in view with the lightweight tech Polaris has? Not right now!
The AXYS Pro-RMK, be it a 155 or 163, with Polaris' Low Inertia Quick Drive belt drive system, Series 6 paddle track – a new Polaris-specific paddle track with 2.6-inch lugs – new-in-the-AXYS-RMK 800 H.O. motor, new forged aluminum spindles, tightened up panels and both raised and dropped chassis, is the epicenter of functional, purposeful and much wanted, needed and desired no-nonsense performance.
2016 Polaris 800 Pro-RMK 155 Unveiled
In the mountain world, the lethal weapon is power-to-weight. Brandish this and the snowmobile is King.
Questions always surface in this industry and one of them is "is there a point when light is too light?" Yes. But, with the success Polaris had with its Pro Ride Pro-RMK, western Rocky Mountain mayhem customers who like to break things because they can have tested the Pro-RMK to its limits, and for the most part, found it to be strong. The AXYS Pro-RMK – the 155 at 408-pounds and the 163 at 413 – are lightweight boxers with heavyweight boxer strength.
Those AXYS Pro-RMKs with Polaris' Series 7 track, a track with three-inch lugs, does not utilize the belt drive system to spin the track, but the hardy chaincase system. The AXYS RMK Assault uses this as well, as it is a race-ready mountain sled. So, some added weight comes by way of gears and chain, and a taller track. But, the chaincase-driven Pro is much lighter than the other OEMs' lightweight premium snowmobiles of same track length.
2016 Most Improved Mountain Snowmobile
Worthy of this is Arctic Cat's 2016 M8000 Limited 153 and 162. This much-improved M8000 is one nimble-on-its-feet Cat. It will land on its feet when dropped and not expend more than one life – it has much to give. Had the AXYS Pro-RMK not come to market, the 2016 M8000 Limited would have been our clear choice for Mountain Snowmobile of the Year
We rode the 2016 M8000 Limited and Sno Pro in January, February and March of this year, in both deep powder and hardpacked crap. Regardless of condition, we found the new Arctic Mountain Suspension (AMS), tipped in and swept back forged aluminum spindles, Team drive and driven clutches, reconfigured FLOAT-ACTION rear suspension, PowerClaw track with three-inch paddles, and new mountain ski made the Limited aggressive, light-through-the-bars, a climber and a sidehiller, and nimble-to-the-point that it redefines flickable.
2016 Arctic Cat M8000 Limited Review + Video
Now, we all know Arctic Cat should take the M8000 Limited to a weight-loss clinic, to catch up to the King of lightweight, the AXYS Pro-RMK, but we challenge you, and with all things being equal, to notice the Limited's additional 30 pounds (over that of Pro-RMK) when the rumble-in-the-jungle begins.
In The Middle
Between our editors' choice for Mountain Snowmobile of the Year and our choice for Most Improved Mountain Snowmobile lies the 2016 Ski-Doo Summit X T3 154. This new X T3 variant is the Summit X Ski-Doo should have released in 2015. But no never mind, the full-on X-equipped 154 Summit T3 is here and we are happy to welcome it on the mountain.
As the Snowmobile.com mountain team discussed choices, test rider Kevin Allred kept saying, "I got along really well with the 154 Summit X T3." Kevin and machine, connected. He found the X T3 154 behaved in a manner that brought confidence to him, regardless of the crappy hard pack snow conditions we had during evaluation time.
2016 Ski-Doo Summit X T3 154 Review
With all the X package goodies, the 154 XM Summit X T3 154, joins the long 163 X T3 and longer 174 X T3. With a 16-inch wide FlexEdge Powder Max II track, RAS 2 front end and T-motion at the rear, the 800 E-Tec powered 154 will zip through narrow-spaced trees, fat gullies and steep hills with ease.
Runner up to both our Mountain Snowmobile of the Year and Most Improved Mountain Snowmobile, is this mountain buster, the 2016 XM Summit X T3 154.
Best Four-Stroke Mountain Snowmobile
Yamaha's M-TX LE with three-inch PowerClaw paddle track, improved SRV-M front suspension and Dual Shock SR rear suspension is the four-stroke mountain snowmobile to have. Yes, the M-TX from Yamaha uses the ProClimb chassis from Arctic Cat, with all the 2016 updates, but the M-TX feels like a Yamaha. The smooth talking, but punchy three-cylinder four-stroke 1049cc electronic fuel injected (EFI) Genesis motor and Yamaha clutches make the M-TX LE, be it a 153 or 162, a very capable mountain muscle snowmobile.
When we rode the 2016 M-TXs, be it Base, SE or LE, the snow at Lions Head mountain near West Yellowstone, Mont. was deep and plentiful and we pushed the M-TX models through their comfort zones and beyond. The question you may ask, "Can I chase my two-stroke buddies on an M-TX LE?" Yes, for the most part. There will come times when the M-TX LE will faint on a mountain, but that will be, from our experience, a rarity. The new front end, skis and rear suspension make the M-TX LE behave Donald Trump-like at a presidential rally – aggressive and not willing to shy away from a fight.
2016 Yamaha Viper M-TX 162 LE Review + Video
Owners can take their M-TX LE to bone-crusher status by installing a Mountain Performance Inc. (MPI) turbocharger, and that, folks, makes most talk about power-to-weight either go away, or become highly credible, depending on your point-of-view.
We've hammered many a mountain's protective armor with an MPI boosted Yamaha mountain machine and have come to testify, a boost-happy M-TX LE makes a boost-happy M-TX LE owner.
Best Introductory Mountain Snowmobile(s)
The unsung middleweights in the 800 class deserve a first, second and third look, and a purchase. Unfortunately, we can't narrow it down to one. We give huge kudos, or whatever your favorite term for acceptance, praise and approval to Ski-Doo's XM Summit SP 154 with T3, Polaris' Spring-buy select SKS 155, Arctic Cat's M8000 Sno Pro 153, and Yamaha's M-TX 153, the simple and bare base/standard M-TX.
These in-season 800s and one lone four-stroke share most of the amenities as their premium Spring-buy siblings; these near 90-percent premium snowmobiles make those who purchase one as much an Alpha male or Alpha female as those who bought the Spring-buy models.
Impressive to us is 1) How light the SKS is as compared to the other OEMs' premium mountain snowmobiles; 2) How strong the M8000 Sno Pro is with its 2.6-inch PowerClaw track; 3) How professor-like the XM Summit SP T3 is with its FlexEdge PowderMax II track and T3 handling package; and 4) How comfortable and muscle-like the base M-TX 153 is.
We give four fist bumps to these four honorees. Normally, we give this to a high end screaming 600 deep powder toy, but this year, the in-season 800 two-strokes and one four-stroke gave us the giggles.
Speaking of 600s, we look forward to this winter when we can stab a mountain on an AXYS 600 Pro-RMK. Yup, something sweet to write about.
Best Deep Powder Crossover Snowmobile
The last of our awards – the best deep powder crossover sled – goes to Arctic Cat's XF 8000 High Country Limited. The 141 High Country with its telescoping handlebars, 2.25-inch PowerClaw track, ProClimb chassis, and deep powder skis make this crossover more than a trail burner and meadow masher. It is designed to take the flatlander from North Dakota to Western Wyoming or Montana, to enjoy deep powder – within reason – and some blistering trail rides with control, confidence and comfort.
2016 Arctic Cat XF 8000 High Country Review + Video
When we wrote up the XF High Country we gave it a strong report on what it can do and can't. We learned it can do most and is not willing to do the least.
Best Decisions for 2016
New for this season is a category giving light to those decisions an OEM, an aftermarketeer or an individual made that rocks common sense to the sound of "He** yeah!"
Polaris stunned some of us editorial jockeys when it acquired outwear manufacturer, Klim of Rigby, Idaho. Your humble correspondent thought that this was an unwise decision – on Klim's part. I've eaten my words with Tabasco sauce and since claim the acquisition was brilliant.
Best Decision Number 1: Arctic Cat Acquires MotorFist
Segue to Best Decision number 1 is Arctic Cat's March 2015 acquisition of MotorFist, Idaho Falls, Idaho (Klim competitor). Three awesome activities will pour out from this. First, MotorFist will have access to additional brilliant minds – financial, marketing and distribution – to help the company grow. Secondly, shared expenses will allow cash flow to, well, flow. Third, for Arctic Cat, it will prove to the public it is serious about the snowmobile business.
Buried in this Best Decision number 1 is a little known "Way to go, MotorFist," is the company's hiring of one Jared Burt of Rexburg, Idaho, who helped guide Rexburg Motor Sports from a small fledgling dealership to a mega-dealer where all four snowmobile brands were sold under one roof. Jared worked as a service manager, sales manager, general manager and everything in between. MotorFist did well in bringing Burt into the fold (and Arctic Cat's); his marketing, sales and motorsports knowledge is vast, deep and wide. Not to end there, MotorFist also hired Stacy Scott from Rexburg Motor Sports, where she was the dealership's Parts Manager. She will cover MotorFist's sales for much of the West as a Sales Manager. She is a smart lady who is a workaholic.
Best Decision Number 2: Polaris Acquires Timbersled
Here is Best Decision number 2, which is Polaris' acquisition of Timbersled of Ponderay, Idaho (seems like Polaris likes Idaho companies). Timberlsed, led by Allen Mangum, founder, president and general manager, took Timbersled from a little known business building lightweight aftermarket suspension components for mountain snowmobiles, to a highly-reputable aftermarket company specializing in designing and building aftermarket front and rear suspensions – all lightweight and tough – to the famed and hugely successful Mountain Horse snowbike kit for your favorite 450 and greater off-road motorcycle.
Polaris busted out a big bang here in that the company can tap into brilliant minds that create robust and lightweight mountain suspensions and can take advantage of a young, but fast growing snowbike industry.
Timbersled wins here in that they are tied into a company that has vision.
Where do we see Timbersled going with Polaris? Well, our opinions only, 1) The Mountain Horse snowbike will get better and gain in appeal and popularity; 2) The RMKs will continue to amaze as Polaris may – may – tap into Timbersled's knowledge to take the RMK's suspensions to the next higher goal; and 3) In another wild guess, we see Timbersled advising Polaris' RZR folks on suspension geometry.
Arctic Cat and Polaris are two companies that did well in looking out West at Rocky Mountain folk.
Closeout
There it is. Agree or not, that is OK with us. Regardless of view, model year 2016 brings some sweet rides. Is there a sloppy jalopy mountain snowmobile out there? No. You and all of us in the Snowmobile.com mountain cave can go out and whack-a-mountain on a 2016 and return home at night satisfied and fulfilled. Not a short-straw pick among the lot.