2014 Ski-Doo Snowmobile Lineup Unveiled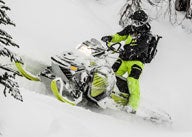 Ski-Doo rolls out changes to more models and adds an innovative 900cc 4-stroker
For model year 2014 Ski-Doo does the expected by expanding the REV-XS platform outside the top of the line MXZ and Renegade models and into the more basic series like the TNT, Adrenaline, selected GSX sport luxury and even to the Expedition Sport. And, with the success of the top of the line 2013 Summit REV-XM platform models, you'd expect those changes to go more mainstream, which they have as tMotion rear suspension and FlexEdge track design now get fitted to the Freerides, Summit SP and Sport versions.
Throttle By Wire
What you might not have guessed is the addition of an all-new Rotax ACE 900 four-stroke motor. Instead of basing off the 1200 4-TEC, the new 900 uses advanced combustion efficiencies pioneered with the 60-horsepower Rotax ACE 600. With benefits in clean combustion and efficient use of fuel, Ski-Doo spokesmen claim the 900 achieves up to 23.3 miles per gallon in its "ECO" mode of operation. This is what makes the all-new ACE 900 unique in snowmobiling. It borrows electronic throttle-by-wire technology (TBW) used for years in automobiles and introduced on the 2010 Can Am Spyder, Ski-Doo's corporate over-the-road sibling. TBW (or as Ski-Doo prefers, Intelligent Throttle Control) in of itself isn't the big deal here. It's of interest because the throttle pull will be lighter and quicker. Ski-Doo claims up to 40 percent less effort than with conventional throttle pull on an E-TEC motor.
What really matters lies in the TBW electronics and how you will now have three levels of engine performance – Sport, for quickest acceleration and response; Standard, a setting predicated on how engineers think the normal throttle cable to throttle body injector would respond; and, ECO, which provides the best fuel economy settings and correspondingly the most relaxed throttle reaction to thumb input. Ski-Doo and its Rotax engineering counterparts dug a bit deeper in its corporate list of products, bringing the "learning" key concept over from the Sea-Doo personal watercraft line.
We suspect that the 900cc four-stroke will be of interest to Ski-Doo enthusiasts for its technological highlights, but doubt that this 90-hp triple will outsell the E-TEC motors, even though virtually all Ski-Doo designations from MXZ to Grand Touring will feature at least one model with an ACE 900 under the hood.
The ECO technology helps Ski-Doo qualify the ACE 900 for the National Park Service's "Best Available Technology" designation, which means these Ski-Doo models should be approved for "green" areas, such as Yellowstone Park.
Learning Key
The learning key effectively means that the sled can be electronically detuned via an alternate digitally encoded security key that will limit top speed and acceleration power curves. As with the Sea-Doo, the learning key gives "newbie" or young riders the opportunity to learn to ride under controlled conditions. Proven effective on personal watercraft, we expect it will be effective for snowmobiles. Rental operations can program keys on rentals and parents can limit their kids as well. The learning key codes are dealer programmable.
Updates for 2014 include expanding the rMotion suspension to the personal sport and luxury sides. The 137-inch rMotion rear suspension will be seen on GSX and Grand Touring models. The new for 2014 Grand Touring LE with the 900 triple features a new version of quiet track engineering. Ski-Doo's Silent Drive System uses 16-tooth internal drive cogs that pick up the new track's internal lugs in such a manner to reduce vibration levels by up to 70 percent.
For greater riding comfort and convenience Ski-Doo engineering studied how riders interact with their sleds and determined that a redesign of the handlebar controls was overdue. The change applies only to REV-XS based models this season, but those sleds get a more ergonomic and rider-friendly left-hand control pod said to be more intuitive to use. Models with the multi-function gauge offer backlit control buttons plus more mode settings.
While the big news comes with the bigger ACE engine, look for a bigger offering of LinQ accessories and added accessories for both you and your sled. Ski-Doo will be making a noticeable push to increase its parts and accessories profitability by providing a greatly enhanced selection of nice-to-have accessories.
MXZ Models
Updates for the sport performance trail sled leader include "Spring Only" race-like MX Z X-RS and X models. There will be an available TNT option with the new ACE 900 and eDrive clutching. The base Sport version continues to offer both the ACE 600 four-stroke and carbureted 600 two-stroke as well as an econo-Sport with Rotax 550 fan-cooled twin.
Renegade
An X-package and Backcountry X version will be "Spring Only" orders, but you should be able to find Adrenaline, Backcountry and Sport models at dealerships throughout next season. There will be a 900-equipped Adrenaline available and, of course, a move to the XS chassis style.
GSX
Ski-Doo feels that the GSX blends personal comfort with high performance in its SE and LE designated solo sports luxury models. The rMotion rear suspension makes it over to the GSX line for 2014. A top of the line GSX LE adds quiet, efficient power when equipped with the ACE 900 triple. Plus, expect greater convenience as the LinQ attachment system becomes an integrated part of the 2014 GSX series.
Grand Touring
Ski-Doo definitely knows long haul snowmobiling and prefers it be done in Grand Touring style. This is where the four-stroke engines truly shine as they power these two-up models in distinctive luxury. For 2014 luxury comes to the rider's ears as the new 900 LE version adds Silent Drive that reduces trail noise and eliminates up to 70 percent of the vibrations reaching the rider's feet. While the Grand Touring LE and SE enjoy rMotion rear suspensions, the SE adds the ease of air-controlled ride adjusted via a handlebar-mounted rocker switch.
The base Grand Touring continues with a choice of the ACE 600, carbureted 600 two-stroke or 550 fan-cooled twin.
Summit
Hit the powder aboard an "X" version Summit, but you'll have to order early to get one as it's a "Spring Only" purchase. This 20th anniversary Summit comes on the XM chassis and utilizes tMotion suspension with FlexEdge PowderMax II traction. The Summit SP is the in-season choice and comes with either a 600 or 800 E-TEC two-stroke. You'll find tMotion on this year's Summit Sport, which can be purchased with either the PowerTEK 800 or carbed 600 twin.
Freeride
If adventure calls, the 2014 Freeride has been designed to answer. The chassis derives its capabilities from the XM mountain-specific design and can spin a 137-inch, 146-inch or 154-inch track around its rear suspension. The longer lengths incorporate FlexEdge technology and rotate over a tMotion set up, while the 137-inch works with the rMotion suspension. The power comes from the Rotax 800 E-TEC and is the only choice for freeriding in the extreme haunts this sled was engineered to challenge.
Utility
These Ski-Doo models place a big footprint in snow country. The Expedition planks down a 154-inch long by 20-inch wide track print and can carry two plus cargo and still tow a sleigh. The Skandic and Tundra models with their telescopic front ends have been designed to tough out winter with sturdy chassis design, weather-beating windshields, and selections of tough Rotax engines ranging from the fuel-efficient ACE 600 four-stroke to the ruggedly reliable and simple 550 fan-cooled two-stroke.
Related Reading
2013 Ski-Doo Summit X Review – Video
2013 Ski-Doo MXZ TNT 800 E-TEC Review – Video
2013 Ski-Doo Freeride Review – Video
2013 Ski-Doo GSX Series Review
2013 Ski-Doo Grand Touring SE 1200 Review
2013 Ski-Doo Renegade X 800 Review