2011 Yamaha FX Nytro Review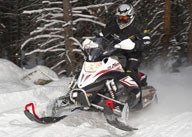 Mogul masher features strong torque and premium suspensions
The way we see it, Yamaha's FX Nytro gets to bump skis with the likes of the Ski-Doo MXZ TNT 800, Polaris' new 800cc Rush and Arctic Cat's F8 models, which means this Yamaha opts into some serious big bang company. Is it really where it belongs?
Fast Facts
Engine Type:Horizontal In-line
Cylinders:3
Engine Stroke:4-Stroke
Valve Configuration:DOHC
Displacement:1049 / 64
Starter:Electric
Turbocharged:No
View Full Spec
Well, actually, yes! The 130-plus horsepower Nytro seems a bit tame compared to the new breed of 800cc two-stroke twins and their 150-hp ratings, but when the Nytro first appeared, the big bore breakthrough hadn't happened yet. Now that it has, the Nytro is down at least 15 percent in the power department. And, wham, the lower-powered Nytro suffers in the power to weight department as competitors like the 2011 Ski-Doo MXZ TNT E-TEC 800 weigh in about 90 pounds less than the four-stroke Yamaha. That puts the 2011 Nytro at an immediate disadvantage.
We would have to guess that Yamaha didn't figure that the other guys would all have new 800s so quickly. And Yamaha engineering was committed to the major development of the 2011 Apex, meaning that the current Nytro reflects minor tune-ups going into the new season.
Bold black and red graphics serve to differentiate the 2011 Nytro from previous versions. That said, the 2011 comes at you with serious big bump equipment first established worthy by the hot rod Nytro RTX from last season. This means the current base Nytro uses the lightweight 11-degree tilt tunnel, which gets you through deeper snow more easily and offers both a secure and wide runningboard for stand-up action when you run through a section of ruts.
Additionally, there's the latest FXG2 front-end design, also proven and shared from the RTX. The Nytro's standard Yamaha-specified premium GYTR high-pressure gas shocks will fight fade over prolonged rough trail riding. Note that the working and adjustable end of the remote reservoir shocks mount inboard and are centered to reduce weight out over the skis. These are easily tuned for both rebound and compression. Similar clicker adjustable gas shocks are used in the Dual Shock CK rear suspension. Regardless of power and weight issues, this Yamaha is one of the most tunable big bump sleds on the market, which makes it a proper action sled.
While we state that the four-stroke may be off on power compared to the new 800cc hot rod two-strokes, the Yamaha motor produces strong torque. We know that this torque can be harnessed more smoothly as the latest Vector with the more modest version of this 1049cc engine is much easier to ride. Yamaha engineers insist that its big bump sleds need to lift the front end when full-on throttle gets slammed in. That's what the designers of the older 800cc two-stroke twins used to think as well. Now they have made the new breed of big twins exceptionally rider-friendly and we find the new 800s as easy to ride fast as the 120-horsepower 600cc models. We are big believers in keeping the skis on the ground when cornering. During our brief stint as an autocrosser, we never once wished to have the front wheels off the pavement when whipping through a slalom section. We did strive for equal weight balanced side to side and front to rear. We would think that such design would benefit the modern snowmobile on rough and smooth conditions.
We do note that Yamaha worked very diligently to create snowmobiles with rock solid chassis construction, or as the engineers would call it — torsional stability. And Yamaha engineering worked hard to bring weight inward and centered, plus getting it low in the chassis. This is something that all snowmobile manufacturers have been working on for the past decade. Yamaha has gotten the engine low and rearward of the ski centerline, making for a compact and concentrated area over which to position the steering. Combining the steering angle with the ride forward seating position gives the Nytro rider a very aggressive riding platform from which to attack deep moguls, whip around ditch lines and slam down rutted out trails.
The Yamaha steering consists of hooked end handlebar for secure grip and, handgrip areas that feature very easily modulated warming areas.
We can't say that the 2011 Yamaha Nytro will equal the speed and power of the latest 800s, but it will hold its own in a group of fast riders. This sled is designed to travel the rough areas with competence thanks to the compact and centered design that locates key components at a height about equal to the rider's knees when standing on the runningboards taking bumps. We can't think of too many modern snowmobiles that have managed to move the sheer bulk and mass of the four-stroke drive system as low and centered as this Yamaha. Of course, that makes getting at key components — other than the drive belt — a bit of a challenge. Thankfully, this is a Yamaha, and it earns its reputation of exceptional quality and reliability.
You'll appreciate that Yamaha snowmobiles rate exceptionally high in reliability, ease of operation and, because of all that, resale value. Since this is a four-stroke powered snowmobile, you can figure that it will be easy on fuel, low in emissions, only needs an oil change once or twice a season — depending on how many miles you ride! For all the added power of the new two-stroke 800 twins, the Yamaha Nytro four-stroke has its own key set of advantages.
With the 2011 Apex borrowing the EXUP exhaust valve set up that gives that four-cylinder, four-stroke motor the advantages of excellent top end combined with strong midrange power, it may be a matter of time before we see this technology on other Yamaha sleds. The Nytro style big bump runner would make an excellent candidate in our estimation. Would such a technology fit? We've seen the EXUP used on some very confining motorcycle setups, so, we'd say it could be fitted if needed.
For 2011 the Nytro gives Yamaha enthusiasts a serious sled for rough trail running. This sled comes loaded with all the "right" features, like superior shocks, aggressive styling, centered drive train, over-engine steering placement and the intangibles that the Yamaha brand name gives you in quality and resale value. Reliable and strong, the 2011 Yamaha FX Nytro meets the challenge of big bump action.
2011 Yamaha FX Nytro Specs
Engine
Yamaha Genesis 130FI; liquid-cooled, 1049cc 4-stroke triple; bore x stroke, 82.mm x 66.2mm; Mikuni 41mm fuel injection
Horsepower
130
Drive
Yamaha YVXC variable ratio drive and driven
Front Suspension
Yamaha double wishbone FXG2; 8.5-inches maximum travel; 40mm GYTR dual-clicker high-pressure gas shocks
Rear Suspension
Yamaha Dual Shock CK; 14.5-inches maximum travel; C40 R15 aluminum gas shocks on front and rear suspension arms
Brake
Yamaha 4-piston hydraulic with lightweight disc
Length
110.4 in
Height
45.6 in
Width
46.4 in
Ski Stance
41.3 in
Track
15 x 121 x 1.25 Camoplast RipSaw
Weight
NA (522 lbs 2009 FX Nytro)
Fuel Capacity
7.4 US Gal
MSRP
$10,099
Related Reading
2011 Yamaha FX Nytro XTX Review
2011 Yamaha FX Nytro MTX SE Review
Yamaha Unveils Electronic Power Steering
2011 Snowmobiles of the Year