2011 Snowmobiles of the Year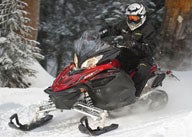 We name our pick for top sled of 2011
We've given you our choices for the best sleds for the deep powder "vocal majority" riders. For 2011, at least, the powder sleds garnered the most engineering attention, but that is not to say that the sleds for the rest of us — the sea level riders or flatlanders as the Western guys call us — got nothing. There are some significant things brewing in the trail, touring and utility sled markets. With the return of consistent snow to the most popular snowmobiling areas like Ontario, Minnesota, Wisconsin and northern New York and New England, we expect that 2012 will bring innovative new models for riders in those areas.
As a local snowmobile dealer told us recently, despite the return of snow, his customers are holding their discretionary dollars folded tightly in their wallets and not buying new sleds just to exchange model years. He says that his customers are looking, but they want new technologies and what they perceive as increased value over what they already have. So, we expect that snowmobiling engineers will be upping those perceptions as each company's marketing staff works on eliciting excitement for what's to come. We think that the best 2011 snowmobiles hint at the new directions. And that played a role in how we selected the Best of 2011 Sleds.
As we did with the powder sled selections, we've looked at engineering freshness, overall value, performance and significance in the marketplace. We've picked through all the offerings for 2011 and arrived at these category leaders.
2011 Best Brute Force Performer
Arctic Cat Z1 Turbo Sno Pro
With a 1056cc turbocharged engine that boosts up to 177 horsepower and 121-ft-lbs of torque at 7300 rpm, there is nothing subtle about the Z1 Turbo. Yet, Arctic Cat engineers managed to get this nasty fast mount to handle and corner far better than we could ever have imagined. Add in the heavy-duty braking system and you have a wicked fast power wagon that you can rein in. Built on Cat's latest rider-forward chassis, the sled comes with quick-adjust handlebars and moveable seat and footrests to fit your riding style. While the 2011 Z1 Turbo offers only a modicum of change from the previous year, this sled is still "king of fast" across a long lakebed.
Runner-up: Yamaha Apex SE
Yamaha did this sled a bit of a disservice in having it look too similar to the previous version. We've been told that the 2011 Apex may look familiar but that very few pieces carried over. Certainly not under the hood and all-new seat where you'll find a seriously refined Genesis four-cylinder motor with Yamaha's torque inducing EXUP exhaust valving system that helps the 2011 motor develop more than 160 horsepower and a significant torque boost across the power curve. While this 10-percent plus power upgrade might seem like enough, Yamaha engineering added electric power steering (EPS). This is a feature that truly has to be tried to be believed. A trend in ATVs and becoming a trend in modern small car designs, EPS lets you ride harder longer.
2011 Best Performance
Ski-Doo MXZ X-RS 800 E-TEC
Many serious trail riders want what the snocross racer has. The 2011 Ski-Doo MXZ X-RS provides the chassis and suspension components you need to emulate Team Ski-Doo's big bump riders. Add in the very refined new 800 E-TEC two-stroke twin and you have plenty of quick revving power to get off a corner in a hurry. Fitted with a Brembo racing brake complete with steel-braided line, the X-RS goes and stops race sled quick. The suspensions feature massive KYB Pro 40 shocks and you'll find a narrow racer-style seat and race-inspired forward steering post to accommodate the stand-up style riders want for taking the big bumps. This is a serious hot rod for serious riders.
Runner-up: Arctic Cat F8 EXT
There is a growing and fast becoming accepted practice of mating big power to longer track lengths to make a new series of performance sleds. The Arctic Cat F8 EXT brings the 160-hp of its very user-friendly 800cc two-stroke twin to a sled with a 144-inch track length. This gives the power more grip and allows the rider increased traction for cornering and bridging stutter bumps. Cat was the first to offer a truly rider friendly big twin that can putt along on a slow tour or come unleashed on a long straightaway. New for 2011, the F8 EXT should be a very popular model this winter.
2011 Best On/Off-Trail
Arctic Cat F8 EXT
While we felt the 2011 Arctic Cat F8 EXT was second best as an overall performance model, we have no reservations when it comes to naming it the Best On/Off Trail sled. There are plenty of riders who still think that a pure sport performer should have a short track that measures less than 130-inches. We don't share that feeling. Indeed, with the power of today's 800cc engines, longer track lengths are almost mandatory. The longer wheelbase helps plant the sled better on the trail and most assuredly aids off-trail flotation when boony-whacking through fresh powder. The 2011 F8 EXT offers the best features of the F-series with the power of the Suzuki-built 800cc twin. Add in ride-forward positioning and a windshield that blocks the wind and powder spray you scare up when breaking new trail and you have one of the very best new sleds for this season.
Runner-up: Polaris 800 Switchback Assault 144
Polaris takes its Assault nomenclature in two directions for 2011. One direction borrows from the company's new mountain line and the other, our runner-up choice, borrows the new Rush-inspired front end styling but adds a 144-inch track and suspension to go along with the latest 800cc Cleanfire two-stroke motor. The RMK Assault features a longer 155-inch track. The newest off-trail Assault model, the Switchback Assault blends in some RMK heritage, but refines it for the trails with higher end trail gearing and an uncoupled skid suspension with tipped up rails for better on-trail running.
2011 Best Pure Fun
Arctic Cat Sno Pro 500
We liked it last year and we like it again for 2011 enough to name Arctic Cat's Sno Pro 500 best pure fun sled of the year. Where sleds like Ski-Doo's MXZ X-RS put a premium on power, this Cat is about being nimble and letting you toss it around. The one drawback is the moderate power of the 500cc twin. Once you've learned the Sno Pro 500's tricks, you'll want more than its base 85 ponies, which is slightly more than you get from Yamaha's Phazer RTX. This chassis is derived directly from the Team Arctic race sled. The only changes that have been incorporated are ones that make it trail legal. The sled's suspensions are all about handling and the Slide-Action rear suspension works just like the race version. This is a purely fun sled to own.
Runner-up: (Tie) Yamaha Phazer RTX & Ski-Doo MXZ Sport 600 ACE
We couldn't make up our mind between these two. The Yamaha Phazer has more power and you'll feel it. But the MXZ-based Ski-Doo with the new 600cc four-stroke twin is incredibly smooth and should be a high mileage rider. Both are fun to ride and can help newbies — and oldies — in enjoying the sport for not a great deal of investment.
2010 Best Personal Sport Touring
Polaris Rush LX
Polaris seems to get it when it comes to solo sport touring. Just because you want to carry odds and ends doesn't make you a trail-touring dork. You like having a windshield that deflects wind and snow. You like having the ease of key start and reverse. But you like having a very good ride and a sled fitted with above average components. And you like having a place to stow gear like a water bottle, spare gloves, etc. The Polaris Rush LX brings you the latest all-new progressive action Pro-Ride rear suspension, plus adds in things like rearview mirrors, an RCA plug for your heated face shield and onboard rear storage. The standard 600cc Cleanfire twin gives you plenty of power and the tapered bars give you grip for spirited cornering. This is what a solo sports cruiser should be.
Runner-up: Ski-Doo GSX SE 1200
Ski-Doo opts for total luxury in its four-stroke powered entry in the personal sport-touring category. The Ski-Doo GSX SE comes with the incredibly smooth 4-TEC 1200 four-stroke and the on-trail quiet of a SilenTrack that has been designed to reduce track noise. This sled even adds in tilt steering and an air-control suspension. More luxury than sport, this solo rider can cover easy trail miles thanks to its 130-hp Rotax triple.
2011 Best Luxury Touring (Tie)
Ski-Doo Grand Touring 1200 SE
Arctic Cat TZ1 LXR
Choosing a best luxury-touring sled is like choosing between a Honda Gold Wing and a Harley-Davidson Ultra Classic. Both are excellent models, but they just get there in slightly different ways. That's how we view the Ski-Doo Grand Touring 1200 SE and Arctic Cat's TZ1 LXR.
The Ski-Doo is air suspension and quiet running SilenTrack underpinnings while the Cat is about instant-on turbo power and overstuffed seating. The Ski-Doo and Cat feature a heated seat. The Cat adds in the 177-hp of the turbo triple. That's 40-more horses than the Ski-Doo 1200cc 4-TEC can muster. But Ski-Doo tosses in tilt steering and 2+1 modular seat.
Touring cases are standard with either choice, although the Cat has remote electric start and gives you adjustable handlebars. Both are very stylish and compete very well head-to-head. For us, this is a toss-up.
2011 Best Utility
Ski-Doo Tundra Xtreme
As we noted in our review, we thought Ski-Doo was kidding when they introduced the Tundra Xtreme. After we rode it we came over to the dark side, this sled is virtually all blacked out. Guess black is the new chrome? But what sold us was the application of the 600cc E-TEC twin in a chassis with a 16-inch wide by 154-inch long PowderMax track complete with 2.25-inch lug profile. This is a serious backwoods runner. There's full utility with its end of chassis rack and rugged brush-thumping front bumper. This is a serious go-anywhere sled that can be a good friend to ice fishermen or anyone else needing a versatile sled to get out and about regardless of the snowfall.
Runner-up: Ski-Doo Expedition LE
We choose the Tundra Xtreme over the Ski-Doo Expedition LE because we felt that the Expedition was as much touring sled as utility model. This makes it a bit unique as it can be used to haul a passenger on a Sunday social ride or tow a half-ton of gear to the local backwoods clubhouse. The LE with the 600cc E-TEC two-stroke comes on the REV-X platform and can deliver a claimed 21 miles per gallon, which is handy for backwoods travel.
2011 Best of the Best
Yamaha Apex XTX
When you consider what Yamaha has achieved with the 2011 Apex, it is impossible to ignore this sled. For starters the engine is a normally aspirated powerhouse that delivers 162-hp and more than 100 ft-lbs of torque from 6000 rpm to 8500 rpm. While Yamaha uses EXUP in many of its performance motorcycles, the exhaust valve system is new to snowmobiles. But incredibly effective.
Now add in the first ever appearance of electric power steering in a sled. This device makes the sled "feel" much lighter than it really is, which means that your arms and shoulders will stay relaxed and loose for all but the longest mileage rides. But it's not all about EPS, Yamaha engineering totally reworked the skis to help them minimize darting while maximizing cornering power. There's new steering geometry in the front double A-arm setup, too.
The seat may look similar to the 2010 model, but it features a rise of nearly two-inches to get the rider's hips higher for more comfort. This is not something you'll see, but you will definitely feel it on a ride. You'll also appreciate the Dual Shock CK 144 rear suspension used in the stretch track XTX version of the 2011 Apex.
We picked the 2011 Apex XTX model as our choice for sled of the year, but we could have named any of the three Apex models. The XTX uses a suspension skid rail design that reacts quickly on the trail like the 128-inch rail in the Apex SE, which also features the upgrade in power and EPS steering, but adds in all-air front and rear suspensions. The utility of the XTX's 144-inch length offers short track cornering agility with the bridging effect of a 136-inch length and the added flotation you get from its extended length.
As we've said before, the 2011 Apex has styling that is too close to the previous models and makes you underestimate the amount of wholesale change in this newest of the new breed of Yamaha. When you take a close look at the 2011 Yamaha Apex, there can only be one conclusion. It has to be Snowmobile.com's 2011 Snowmobile of the Year!
Related Reading
The Best 2011 Snowmobiles for the West
2011 Arctic Cat Z1 Sno Pro Review
2011 Yamaha Apex SE Review
2011 Arctic Cat F8 EXT Review
2011 Polaris 800 Switchback Assault 144 Review
2011 Arctic Cat Sno Pro 500 Review
2011 Yamaha Phazer RTX Review
2011 Ski-Doo GSX SE Review
2011 Ski-Doo Skandic Tundra Xtreme Review