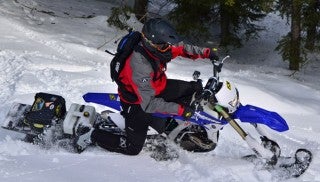 The first snow bike-specific bib
Are snow bike riders snowmobilers as well? Yes. Some snow bike riders are only off-road dirt bike riders who've expanded their dirt passion to a snow passion. Some are snowmobilers who left the snowmobile market to make use of one toy as a year's long recreation investment, and some have the funds to recreate on both snow bike and snowmobile.
Recently we sat down with Klim's marketing department and product developers to learn about Klim's exclusive snow bike outerwear. During that session we discussed who they viewed as the snow bike rider, how big they thought this new market might be and where this new passion for snow bikes might go? In the past two months, we have explored this through several articles, and the consensus at Snowmobile.com and at Klim is: the snow bike market is evolving and reinventing itself on a yearly basis. Given that, what will the snow bike rider wear to ride this wintertime dirt toy?
There definitely seems to be a snow bike revolution with riders needing apparel specifically suited for snow bikers. Klim agrees and has developed a snow bike-specific bib, the Havoc. On its webpage for the Havoc bib, Klim states it is the first and exclusive bib designed for snow bike riders.
While this garment is an exclusive design for snow bike use, there are other rough-and-ready products from the Rigby, Idaho company that would interest snow bikers.
We went to Klim since this company is powder-deep in manufacturing snowmobile outwear and also dirt-deep in building off-road motorcycle apparel, which makes Klim's investment in the motorcyclist and snow bike enthusiast markets unique in the powersport gear realm.
COMPARISON: Read our review of the Klim Snowmobile Gear
This past February, we hooked up with Klim to spend a day on two Yamaha WR 450s with Timbersled's Mountain Horse snow bike kits, the LT – the Long Track kits. While there, Evan Hoge, who works at Klim helping the company develop its line of snow bike bibs, introduced us to the company's Havoc bib, designed exclusively for snow bike riding. Given that, as we sat in Klim's corporate meeting room dissecting the Havoc bib, Hoge and John Summers, Klim's marketing director, said they worked with Timbersled's Allen Mangum and Brett Blaser to develop a bib that would hold up to the tree whacking, bush slamming, seat scuffing and heat soaking that normally render any other snowmobile bib useless in a half-season of hard play and work.
Let's look at "why."
A snowmobile's hood, toe hold area, runningboards, and fairing around the fuel tank – basically, the whole cockpit area – mostly protect the rider's legs and feet; mostly being the operative word. A snowmobile's seat is wide – a rider's weight is disbursed over a (somewhat) large area and the seat is not a scruffy patch of material. Furthermore, the snowmobile's hood and belly pan protect the rider from heat emanating from the exhaust pipe.
An off-road motorcycle gives no protection to the driver's legs and feet. The rider rests feet (foot arch) on small pegs. An off-road motorcycle's seat is narrow, almost as narrow as a bicycle seat, and is layered with a course anti-slip cover. Rider weight is concentrated to a smaller sit area, where pressure is increased on the sit bones. A rider's inner thigh area is exposed to the bike's exhaust pipe and motor components. Compared to a snowmobile, a snow bike's cockpit area is rather hostile as compared to a snowmobile's cockpit. With such an open cockpit, tree trunks, scrub oak, willows and any other motor- and knee-high object can reach up and take a mountain lion-like swipe at the rider's lower extremities. Plus, experience has proven that the seat acts like a rasp, filing away at the rider's snowmobile suit sit area.
To combat these issues, Klim turned to Timbersled to help it test product designs that would and could hold up through the rigors of snow bike riding. Klim told us Timbersled's dedicated bike riders, those who work at Timbersled and who product "eval" all during the winter, were sawing through two to three snowmobile bibs per season, including Klim's own products. Klim gives credit to Timbersled's president, Allen Mangum and marketing and PR head, Brett Blaser, who helped Klim (and Hoge) design and develop the Havoc bib. Klim said, if it did not meet Timbersled's demands, then it surely would not meet the public's. The Havoc bib is Timbersled approved.
Not to be a company that is outsmarted by the elements, Klim looked at its line of off-road motorcycle pants and snowmobile bibs/pants to blend what they could to develop a unique product that meets snow bike rider demands for protection and budget – to purchase only one product for both snow bike riding and snowmobiling.
According to Hoge, the Havoc bib is built on the Tomahawk bib chassis with several technologies from Klim's motorcycle pant, the Dakar over-the-boot pant.
The goat skin leather Klim uses on the Havoc is tanned/cured to be flexible, long-lasting and water repellent through siliconization (Klim's unique word). According to Klim, goat skin/leather is more robust than cow hide and can adhere to tanning methods better, such tanning that makes the goat hide water repellent. We've all worn leather gloves where when wet, the leather is nothing more than a sponge which takes days to dry.
The paneling and layering the Havoc pant are both designed to be thick and protective where needed and flexible/loose where needed. The Gore-Tex products Klim uses are some of Gore's most high-tech water and tear resistant that product developers can buy. The Cordura fabrics, too, are some of the best. Klim spared no expense.
The Havoc bib has many unique panels and seams that it is one of the most, if not the most, intensely built bib in Klim's line. The zippers, padding, seam welding, stitching, and tanned leather panels make it the most complex sewn bib to date. But, this does not make the bib weak or less-than desired.
This is what Klim says about the Havoc bib on its website:
* Has durable leather panel overlays (with water repellant treatment) on the inner knee and inner boot for max abrasion and heat resistance; * Has durable 420D Cordura fabric overlays on the outer knees, shins, and cuffs; * Has durable 315D Cordura fabric overlay on the inside knee liner for max knee brace protection; * The "D" in the two above cases stands for "Denier" (pronounced den-ear) which is a measurement that identifies individual thread or filament (fiber) thickness. The higher the number, the thicker (more ridged) the material. There is a balance point to thickness and flexibility outwear companies must walk. * Exclusive seat-dry technology construction with a second layer of extremely durable/waterproof TPU backed fabric; * TPU is Thermoplastic Polyurethane (TPU) which is a polyurethane plastic with many properties, including a resistance to oil, grease and abrasion. * Inside gator at the pant cuff with quick boot hooks; * Guaranteed to Keep You Dry; and * Gore-Tex performance shell fabric
Klim does not have a snow bike-specific coat/parka, but when meeting with Klim's shark tank pros, they recommend the Valdez parka as the go-to snow bike coat, as its Gore-Tex paneling is similar, to the point of being identical to the Havoc bib.
The boot Klim recommends is its Adrenaline GTX BOA boot. With two BOA cinch systems per boot, riders can cinch down or loosen the boot as needed, being it the calf or foot. The boot is tall to keep snow out and fairly narrow to rest on the bike's foot pegs and to manipulate the foot-actuated brake and gear selector. We recently wrote about the BOA boot here.
For gloves, choose one that is warm and flexible as snow bikes do not have handlebar and lever (brake and clutch) warmers. Here the recommendation is the Fusion.
We have not worn the Havoc bib, but handled a one-year old pair that had many miles on a snow bike seat. The bib, by all intents and purposes, looks good. It was the personal pair worn by Evan Hoge, who is the main brain behind the Havoc bib. His many, many days on two Yamaha WR 450s did not send the Havoc bibs back to the drawing table.
Klim reports on its website that the Havoc bib is built with "over the top durability for the most demanding and destructive riders in the world," and is the "perfect crossover piece to the snocross, hill climb, and extreme back country sled crowd."
If I were in the market for a new bib, and I was both a snow biker and snowmobiler, I'd settle on the Havoc bib as my go-to bib for both sports. In this case, one size fits all and meets all. But, even if I were not a snow biker dude, I'd purchase the Havoc bib for its durability; its willingness to meet the demands of backcountry riding.
Understand that snow bikes are not snowmobiles, but are ridden in the same areas as mountain snowmobiles. Snow bikes rattle through tightly-spaced trees where snowmobiles dare not go. With that, snow bikes and its pilots are subject to many objects that beat rider and steed, as well as having a need to manage engine and exhaust heat. Having the right PPE – personal protective equipment – is paramount. Klim set out to build a bib to protect snow bike riders in a way that allows the rider to concentrate on riding, while feeling safe as Klim does.