Make Your Snowmobile Electrifying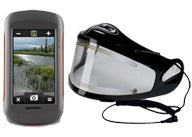 Products that take advantage of your sled's electrical output
My full-bodied pickup truck and Arctic Cat's top of the line touring sleds share electrically heated seats and handlebars. Well, technically the truck has an electrically heated steering wheel, which doesn't detract from the fact that both are quite pleasant on cold mornings. And that remote starter, which Arctic Cat also offers for its sleds, makes for an added comfort perk. Maybe this newfound electrical output from modern snowmobiles needs to be exploited even more.
For those of you old enough to recall the not so golden days of snowmobiling, you'll admit that cold winter days were exactly that — cold, uncomfortable and arduous. That we fought our way down rutted ungroomed trails on sleds with barely 4-inches of suspension travel proved our mettle. We were manly men and bodaciously bold women that met winter head-on. We were tough.
Or, were we merely a bit too stupid to envision that our winter lifestyle could be more comfortable and, at the same time, more rewarding as we covered more miles, crossed more terrain and arrived at destinations warmer and more relaxed. As time and snowmobiling have progressed we opt for the latter. Being tough and rugged did lead to some pretty outrageous tales swapped with fellow sledders around the bar. But now we'd rather swap stories soaking in the hot tub with fellow relaxed riders as we wind down from a 150-mile day's ride filled with snow-covered scenery and tales of the wildlife we saw. And maybe a few tall tales of the big whoops we conquered on the way. With today's sleds the mileage and comfort are givens. Some of that we owe to the souped up electrical systems of the new engines that allow us to enjoy all degrees of heat from the standard hand and thumb warmers. Some of us enjoy heated seats and the convenience of having our sleds remotely fired up before we step out of our off-trail lunch stop.
Thanks to those high-charged electrical systems and the emergence of standard or optional DC-outlets on our sleds, we can add electrical accessories to make our weekend snowmobiling even more fun. Although we often find the ride as being the adventure, we do like to eliminate the stress of getting lost, especially if we are running low on fuel. Thanks to today's marvelous microprocessors and the added amperage on our sleds, we can add global positioning systems (GPS) to mark our waypoints, or as we've come to see more and more, actually route us along marked trailways from destination to destination.
GPS Systems
A couple of winters ago we spent a day riding along with Minnesota snowmobile association members on a ride honoring that state's military veterans. We couldn't help but notice how some of the long-distance riders had mounted automotive-style GPS units to their sleds. A bit of curious inquiry gave light to what has become a new niche in our sport — GPS sled navigation. One snowmobiler with a GPS unit informed us of a local Minnesota-based firm that had created special trail map software for some of the most popular states, including Minnesota. As writer Jim Urqhart noted in his Snowmobile.com article about smartphone "apps," the availability of decent software for snowmobile travel has evolved.
RedPineMapping.com offers trail map programs of key snowmobiling destination states in the Upper Midwest that will create a route to your destination. According to the company, the available maps, which are available for US$40 and up, can be installed on select Garmin GPS units. Each map series not only shows you the trails, but also breaks out food and fuel stops as well as lodging and repair waypoints.
While the company bases the Minnesota trail selection off the state's Department of Natural Resources data, the trail info has been hand-edited and compiled from various sources, including smaller local club trailways.
Red Pine Mapping offers its recommendations for GPS products that work best with its software. The company suggests three Garmin units, including the handheld Garmin eTrex Legend HCx, which offers a highly sensitive antenna, a color screen and an available SD card slot. This unit was designed with outdoor usage in mind. It's lightweight, compact and weatherproof.
Red Pine Mapping also suggests the Garmin Oregon 450 and the automotive-based Nuvi 500, which is quite ruggedly constructed despite its car-based intent.
Garmin has a good record with outdoor GPS and offers other models, like its Montana 650t version that comes with topographic maps and a camera. Best of all, Garmin offers accessories that let you hook the GPS directly into your sled's electrics. You'll find accessories that let you fit the GPS to your handlebar or a marine-type mount for the sled's console.
You'll also find a western supplier of GPS software, SledGPS.com, that also offers comprehensive maps designed to work with Garmin GPS units. The company is associated with Mountain Dynamics Inc., which ironically is located in Tucson, Arizona! Still, the company has been developing digital GPS trail maps for ski areas and been selling maps and GPS hardware since 2005.
The SledGPS.com snowmobile trail maps are claimed to be the most inclusive and are designed into memory card packages that simply slide into the GPS. The company retails packaged maps for 27 states and two provinces that are offered as sets for the Great Lakes, North East, West/Midwest and National, which is composed of all the available states and provinces. The national package retails for US$99.99 and the other three are offered at US$49.99 with free shipping to the US and Canada.
SledGPS.com also supplies maps on CD-ROM based on Garmin's MapSource PC software.
Regardless of the inclusive nature claimed by the manufacturer, we are a bit skeptical as too often local club trails can change from season to season as landowners may choose to remove their lands from a route. So, we suggest that if you are most interested in traveling and connecting with primary corridor routes, then consider the map software as the value of knowing where you are can be worth it. If you travel a local area, you might consider programming in waypoints and creating a custom map for your local travels that can be useful in severe snowstorms with whiteout conditions. We also suggest seriously considering having a setup that is wired into your sled as seriously below zero temperatures can easily deplete battery life.
Hot Wear
In recent years we have become fans of electrically heated apparel, such as boots and mitts. One of the long time suppliers of such gear is Washington-based Gerbing's Heated Clothing, which has been around since the 1970s and has earned a solid reputation with cold weather motorcyclists. You will find quite an assortment of gear that can be wired into your sled's electrical outlet; among the gear is a pair of "Hybrid Heated Gloves."
Gerbing's line of 12-volt hybrid heated products gives you the option of plugging into your sled's electrics or utilizing the product's microprocessor controlled 12-volt lithium-ion battery pack.
The Gerbing's gloves are made of premium leather and feature a soft fleece Thinsulate lining. The warmth comes from a series of micro-sized heating fibers surrounding the hand. The gloves are both waterproof and breathable. They come standard with three levels of heat, which is maxed out on the rechargeable 12-volt lithium-ion battery pack in four hours on the low setting. The heat is available full time when wired to the sled. Retail pricing for the gloves is US$199.95 and can be ordered online at Gerbing.com.
In addition the company offers heated pant liners, vests, socks and jackets that make a winter's worth of riding downright comfortable.
Gerbing's is not the only heated glove supplier. You can find battery-pack heated gloves from PlusHeat.com, which embeds the heat control unit into the top of each glove just behind the thumb. The control provides you with three levels of heat. The gloves come with pre-curved finger construction and a flexible knuckle. The lightweight 7.4-volt lithium-ion battery pack is rechargeable and can supply continuous heat for up to five hours. The suggested retail pricing is US$249.
You'll also find that PlusHeat.com offers a nifty rechargeable heat therapy back wrap to ease lower back stress. The wrap works a bit like a traditional elasticized kidney belt that many of us wear snowmobiling, but it goes one better with four levels of penetrating heat. The belt utilizes a 7.4-volt rechargeable lithium-ion battery for up to five hours of continuous heat when set at the lowest setting. That gives you a heat range of up to 100 degrees settling into your lower back muscles. The device retails for US$129.
Obviously this is just a smattering of new gear available to reduce the harshness of a frigid late January day. As you may have noted, most of the devices rely on the new breed of lithium-ion batteries as well as the development of "smart" microprocessors. Combine these technologies with new sled tech, our favorite sport and you get longer, more comfortably relaxed days on the trail. That certainly beats the ever-lovin' crap out of the bygone days of sledding.
Related Reading Smart Phone Apps for the Trail Polaris Launches Snow Trails App Safe and Warm Gift Ideas That Work Looking For Early Season Gear Choices New Goodies Suit You and Your Sled Products: Then & Now