Snowmobile Goggle Lens Color Options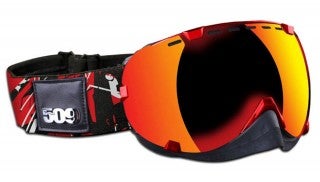 Which goggle lens color works best in what snow conditions?
After a few decades of snowmobiling in all manner of lighting conditions, I'd think I had it all figured out. Maybe my befuddlement as to which lens color to wear stems from today's technologies. In the early days, you wore clear, yellow or dark. Nowadays I've counted more than a dozen lens options from clear to rose to green to amber – and shades in between.
First of all, I've come to the conclusion that there is no one answer for which lens color works best. Because literally we all see things differently. Your eye or retina may not take in light in the same way that your friend's eyes do. You may process light differently, too. So, indeed, we don't all see things the same way.
One of the most perplexing things when out snowmobiling is light and the ability to read the terrain. We have struggled mightily on flat light days —those days when the sky and the terrain are virtually the same. And we've yet to find the best goggle lens solution as we've gone from clear to rose to yellow to help us see the bumps. As you know, when flat light mixes with blowing snow, well, you slow down and work your way back to the trailer.
This past March during the new product photo and ride session held in West Yellowstone, we had days of odd light conditions causing us to carry a number of different lens/goggle combinations – sometimes on the same ride. The perfect bright, blue-sky riding sessions were rare. But, being based in Minnesota last winter we were familiar with the concept as our riding days frequently tended to low light conditions.
Exploring Snowmobile Helmet Styles
This battle with light is nothing new. As a teenager, I worked at a New England ski area and skied for free on my days off. Bright days brought out the faux Ray-Ban sunglasses. Low light brought out the spills as moguls appeared out of nowhere and tended to be deeper than I'd thought.
That was my first real education in matching lens choices with lighting conditions. Than as my career progressed to photography, I learned the matrix of what color lens do to a photo subject. The right lens choice could enhance a landscape; make an action sequence more exciting and so on.
But, last March with the light changing daily, sometimes hourly, I fought the trails and conditions with a limited arsenal of lens choices. So, I thought, bet I'm not the only rider wondering which lens might work best in certain conditions. After looking at various web forums on the topic, it seemed clear that others are a bit befuddled as well. So, as long as it's the non-snow season, there is a chance to study and choose which color combinations to go with when the riding season hits. We'll be better prepared. Here's what we've discovered about lens colors and goggles.
Lens Colors
Yellow, in general, is the most commonly utilized lens color as it's a "warm" color that provides enhanced contrast to increase definition of where the trouble spots may be. You know, things like icy bare spots in the corners, rutted out bumps and dips in off-trail snows.
Because "yellow" blocks out blue light, this color helps reduce glare and works well for foggy days. For that reason, yellow lenses also work quite well on sunny days, but are best for low light conditions. That's why you'll find many riders peering out of their helmets through orange, yellow, amber, or gold lenses.
Amber or orange lenses also work well for overcast conditions to help you distinguish moguls. A "copper"-colored lens is said to work better in especially overcast conditions, but a mid-tone amber lens reflects blue light to increase shadow definition and is a solid choice as a universal goggle for most conditions. That is usually the way I've gone if I'm out with a single pair of goggles, otherwise I take along a darker pair as well.
Choices in Aftermarket Snowmobile Skis
Clear lens goggles are a "must have" in your sledding kit. They work best for night riding and in extremely low light conditions. While a clear goggle lens provides no distinct benefits to you as regards color tones or depth perception, they protect your eyes against snowfall, trail debris kicked up by sleds ahead of you and so on.
Pink or rose-colored lenses tend to work best for low-to-mid light, but are also useful on partly cloudy or overcast days. If you have room to carry a pair, rose goggle lenses work very well at dusk and dawn. But, a caution, pink goggle lenses are not dark enough to filter out bright sun. Go to a sunglasses type shaded lens.
Black or grey tinted lens provide the best eye protection on bright sunny days. The color's use by professional skiers and snowboarders has helped this lens option become a more popular shade. Its dark tint filters out the most glare off mountain snows. Beware, these lenses can limit your ability to determine terrain variances on especially overcast or dark days. That was one major problem we had when we used to use so-called "Blu-Blocker" goggles and shields. Bright sunny days, no problem. Overcast days with flat light, problems!
Brown and bronze goggle lenses work for very bright, sunny days as they dramatically add contrast and depth perception. But, again, because they filter out large amounts of light, don't use them in low light conditions.
Red lens tints increase color definition and sharpen perception, which makes this color very good in medium to bright light.
Green lenses have been used in basic sunglasses for years. The reason is that this color helps reduce eye fatigue on sunny days while increasing definition in most low light conditions. Like the yellow lens, a quality green goggle lens will work in overcast lighting and, since they reduce glare, you can wear them in brighter conditions as well.
Violet or purple-tinted lenses tend to enhance detail, affording you a better sense of moguls and icy spots. These lenses are a good option for low-to-moderate light conditions.
Photochromic goggles, which darken according to the lighting, can provide accurate depth detail in flat light and also provide protection as the light brightens and the lens darkens. Generally in a quality lens, the transition should be smooth, offering optimal vision in all conditions. However, if you have ever worn glasses with the "Transitions" technology, you know that there are degrees within the photochromic products and sometimes the change from dark to light or back can be slow. That doesn't diminish the product value, but simply a shared fact to know. We've used this type of lens and still do.
In general, the photochromic goggles tend to be pricier than other types, but also tend to be more versatile and offer extremely good overall value.
As noted, I am not the only snowmobiler to question which lens shade works best.
On various "chat rooms" we viewed feedback where one respondent noted: "I've used amber for daytime along with a tinted one if sun is too bright and for night I always use clear…"
Another chat room writer likes grey "…for definition. It helps you read the snow and see ridges and valleys better in my opinion."
But, then, yet another writer responded: "Light sensitive are the way to go. Best of both worlds IMO."
As originally determined, the early days of goggles presented us with few options, leaving us with a choice of clear, yellow or dark. Now decades later, while there are many more color and tint choices, the basics still matter. If you possess a selection of goggles with clear, some shade of yellow and a dark shade of lens, you should be spot on for virtually all snowmobiling days. Those remain the most viable choices for a rider to keep tucked in a helmet bag or onboard the sled.
Of course, that's just the lens. Check out the various goggle manufacturers and you'll soon discover a variety in how the goggles are made and what the benefits to you will be. But, that's another story.
We are committed to finding, researching, and recommending the best products. We earn commissions from purchases you make using the retail links in our product reviews. Learn more about how this works.