Snowmobile Storage Solutions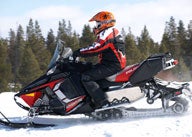 Simple solutions for taking it with you
When it comes to onboard snowmobile storage— or lack of it, we can whine or do something about it. As most snowmobilers know, today's modern sleds seem to grow better in virtually all directions. The engines are more powerful. The tracks have greater grip. The suspensions give you more big bump comfort. The skis bite harder. The riding ergonomics sit you better than ever. But, when it comes to stowing a baseball cap, a serviceable set of tools, a beverage bottle or even a map, today's sleds score poorly on the convenience scale.
This conundrum seems especially untenable when you figure that most modern rider-forward sled styles offer up an expansive area on the tunnel just behind the seat. That's not to say that the snowmobile manufacturers won't be happy to have their dealers sell you a customized baggage solution that turns an open tunnel platform into a custom carryall. And, in fairness, some of the top line "luxury" models do offer the tunnel bag as standard gear.
Since the manufacturers created luggage solutions for their sleds, you know that minimizing standard onboard storage had to be deliberate. Of course, some riders complained and a bit of action has been offered up. Ski-Doo reinstated some rear seat storage. Arctic Cat offered some onboard storage. And, Polaris went all out on the option package by creating a very nifty lock and ride cargo system. This exclusive-to-Polaris system borrows a bit of the company's expertise in designing long distance motorcycles and advanced gear from its ATV line. The 2012 Polaris Adventure snowmobile showcases this system as it comes standard with an aluminum cargo rack and the unique Lock & Ride Saddlebags. You can literally top off this package with an accessory Rack Bag.
Because we are spoiled and whining test riders, we tend to request the "extras" when we spec out a review sled. For example, for this season we could have gone with a 2012 Polaris Adventure. It came with almost all the goodies we desired. But it only comes with the 600cc performance package, which is quite good, but not the 800cc power level we wanted. We asked for — and generously received — what we figure might very well be the equivalent of a 2013 Adventure. We started with the 800 Switchback Pro-R and added options. We sought the top line twin, the deeper profile 1.352-inch Cobra track, Walker Evans shocks and comfort of the new Switchback saddle. But, we added electric start, the Lock & Ride cargo system, rearview mirrors and taller handlebar. In the end we gained extra straightaway performance, overall handling capabilities and increased our on-trail comfort and convenience. We think this package makes so much sense that we anticipate Polaris will have something similar in the Adventure series for the next season.
Of course, that doesn't work on my personal sled. That one has to get gussied up on my own hook. Since it's a few years old already, it typified the world of bare essentials for storage. There is a sparse area for storage in the seat and a spare belt can fit under the hood. Other than that, like you, we've had to comb snowmobile dealerships and various snowmobile gear web sites to come up with onboard storage solutions. Thankfully, there seems to be a small cottage industry for storage options. Some of them are obvious and what we'd expect. They simply carry over from the sled makers' accessories. You'll find a good number of aftermarket bags. And, as we've discovered, there are a couple of unique storage concepts, too.
For us, a tank bag could work out okay. We like the kind that offers a map pouch on top. Maybe it's a carryover from our motorcycling, where we can plot our course at a glance. For snowmobiling a tank bag works out pretty well, but we've combined that with a handlebar bag that lets us stow a ball cap and maybe a pair of light knit "mechanic" gloves. The ubiquitous tank bag has been a must, but we've added some foam packing inside to help the bag maintain shape and keep our tool bag from smashing around. The tool pack could stow under the hood, depending on the sled. There are a number of options for onboard storage. We've provided a sampling.
Van Amburg Cargo Carrier
It used to be that only riders of long-tracked mountain sleds wanted cargo racks. With the rise of "boondocker" sleds with longish tracks like the Ski-Doo Renegade, Polaris Switchback or Yamaha XTX models, adding a cargo rack becomes more appealing. One maker of quality racks is Van Amburg Enterprises, Inc., a family-owned business in Yakima, Wash. The company's motto is: "If you can dream it, we can build it."
This snowmobile product manufacturer specializes in lightweight, high quality, custom snowmobile parts such as its cargo carrier. Designed to fit long tracked sleds that do not already feature a cargo rack, the Van Amburg piece is easy to mount and comes with stainless mounting hardware. Retailing for US$83.95, you can order the rack in a number of colors, ranging from black to orange or a custom color.
To learn more about these cargo carriers, check out the official web site or call 509-225-6681.
Snobunje Tunnel & Bar Bags
Based in Wyoming, Snobunje products can be found at dealerships across the snowbelt or online. Two products that make good sense for virtually all riders of modern rider-forward sleds are the handlebar bag and the tunnel bag.
The Snobunje Handlebar Bag offers 270 cubic inches of space for a cell phone, digital camera, sunglasses, spare keys or extra gloves. You simply use the elastic straps and quick clips to secure the bag to your sled's handlebar. The suggested retail is US$49.95.
You can stow more gear in the Snobunje Tunnel Bag, which also retails for US$49.95. Maximum space expands from 6-inches to 10-inches in height for up to 1280 cubic inches of padded storage. The bag easily mounts to the rear tunnel area.
Parts Unlimited Tunnel Bag
Available online or through its mail order catalog, Dennis Kirk offers the "Parts Unlimited Tunnel Bag" for US$64.95. It features a four-strap design to hold the bag. Simply use the mounting screws to locate the straps on the tunnel. The bag has an internal zippered pouch and two mesh side pockets. The foam-supported fabric construction lets the bag retain its shape.
Powder Keg Storage Options
Designed and manufactured by deep snow riders in Clarkston, Wash., the Powder Keg Storage Box was initially designed with powder riders in mind. For 2012 you'll find a range of Powder Keg storage solutions to fit super long tracked mountain sleds down to a 120-inch tracked Ski-Doo chassis REV XP.
Powder Keg takes the tunnel bag way beyond the usual and offers up a unique design that can be combined with a storage box and a spare fuel keg. The Powder Keg system relies on simple draw latches to secure the device to your sled. The keg's rounded shape and plasticized construction tends to shed snow that gets thrown on to it. The storage keg can be combined with the fuel "keg" to give you both spare gear and extra miles of gas.
Because the Powder Keg design has been designed for specific sled brands — Arctic Cat, Polaris and Ski-Doo, you should check out the web site for product information and for a list of North American dealers.
A two-gallon fuel keg designed to fit a 146-inch tracked Ski-Doo retails for US$127. The keg measures 23-inches in length by 16.5-inches in width and sits just over two-inches tall. The tank has a spill-resistant pour spout and internal baffles.
New for 2011, the Ski-Doo Powder Keg for short-tracked snowmobiles was designed to give MXZ REV XP riders a custom look along with more than 1400 cubic inches of storage. The rigid construction keg fits to the sled's tunnel via four stainless draw hitches. The unit features a simple lid latch and is engineered to keep water away from stowed gear. The new Powder Keg for the 120-inch Ski-Doo REV XP chassis carries a suggested retail price of US$247.
As new sled designs come along, we fully expect aftermarket suppliers like these companies to offer smart solutions to onboard storage that will make our riding fun, comfortable and convenient.
Related Reading Make Your Snowmobile Electrifying Smart Phone Apps for the Trail Looking For Early Season Gear Choices Best Performance Parts for Powder Sleds New Goodies Suit You and Your Sled