2015 Mountain Snowmobile Shootout: Part 2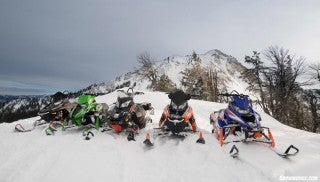 Which sled is our King of the Mountain?
In Part 1 of our annual deep snow shootout of the top 2015 mountain-specific snowmobiles, we introduced you to the 2015 Polaris 800 Pro-RMK 162, Arctic Cat M8000 Sno Pro 162, and Ski-Doo Summit X T3 800 163 and reported on the official weigh-in. Now we turn the shootout over to our veteran crew of powder experts, who offer their opinions on these top mountain runners.
While they aren't part of the official shootout, the team also spent time testing the Ski-Doo REV XM Summit X T3 800 174, Yamaha SR Viper M-TX LE 162, and Polaris 800 Assault RMK 155 and you can read each rider's impression of those sleds below.
Test Riders
Who are these guys and why are they experts? Brent Burton has been snowmobiling for 44 years and owns mountain snowmobiles from all the manufacturers in this shootout. Roger  Raymond has 35 years of riding experience and once worked as a snowmobile mechanic. Kevin Allred has been riding for more than 40 years and has been a test rider for various publications for 20 years. Matt Allred is the western editor for Snowmobile.com, has 25 years experience in the powersports media and spent three years as a professional snowmobile racer.
Brent Burton Ride Impressions
Polaris 800 Pro-RMK 163
Acceleration is strong from bottom to top, and clutching was spot on to hold over 8000 rpm in all conditions encountered during the test rides (8-14 inches of soft snow on a harder underlayer in some locations). Although the horsepower rating is lower than the other 800s, the deficit really doesn't show up in real world conditions given its superb power-to-weight ratio.
Overall maneuverability is excellent. Carving is smooth and the lightweight chassis prevents the sled from digging into a crusty layer under fresh powder. For the shootout, the powder wasn't deep enough for the Pro to really shine as it would in 18 inches of the soft stuff. But with modest countersteer, the Pro is on edge with a predictable platform that easily cuts across slopes that I probably shouldn't be riding on the first place. The Gripper ski provides great flotation along with nimble turning and smooth carving.
The Pro was capable on the rutted-out trail. It is a bit stiff all around, which probably could have been improved with a few suspension tweaks.
Ski-Doo REV XM Summit X T3 163/174
The XM T3 required less energy to ride than any of the other 800s. Unless acclimated to the unique chassis, it's easy to over-ride this sled with modest rider input; the XM wins my vote as being the most nimble. As a consequence, the sled is somewhat less predictable, and in some snow conditions it may give up a little stability, especially in the 163 track length. The 174 definitely dampens some of the chassis skittishness resulting in a stable, smooth, and predictable ride, while still being very responsive.
COMPARISON: Read our review of the 2015 Ski-Doo 800 Summit X 174 with T3 + Video
The E-TEC powerplant is remarkably smooth and mid- and top-end acceleration is phenomenal. Having ridden a 2013 XM most of one season, I would say the somewhat soft bottom end feel of the 2013 is definitely improved in the 2015 model with very strong out-of-the-hole acceleration.
The REV XM chassis works well in all conditions and does a remarkable job on the trail. Once acclimated to the feel of the sled in the whoops, more speed seemed to be the best option with the suspension eating up the bumps with ease.
Arctic Cat Sno Pro M8000 162
If you're a rider who appreciates some serious torque, then the Suzuki powerplant in the M8000 delivers. The 2015 delivered smooth and strong acceleration through the bottom and midrange, with some notable improvement over the 2014 model. Clutching seemed spot-on with the 2015 and observed clutch temperatures seemed noticeably lower than the 2014 model.
The M8000 is a great all-around chassis that works well in all conditions from lower-snow sunny faces with a hard under layer, to soft north slopes. The M8000 easily transitioned to its edge for carving and sidehilling with minimal or no countersteering.  Once on edge, the platform holds stable and is similar in predictability to the prior M-chassis (M8), but will hold steeper sidehills. The steering and suspension is greatly improved over the prior generation of Cat mountain sleds. The primary criticism of the sled we test rode relates to the stock ski that is too narrow for soft snow conditions found on the north slopes, and that it dug into the harder snow under the powder in some instances.
The three-inch track the M8000 used seemed to hook up very well and contributed to the very strong bottom end acceleration. The track seemed to roll nicely down the trail as well and was a nice feature for comparison to the stock 2.6-inch PowerClaw.
Yamaha SR Viper M-TX LE 162
The Yamaha SR Viper is the first 4-stroke mountain sled from Yamaha I have personally ridden in years. The improved chassis performed well in all the terrain we tested it in with decent flotation and carving ability. Obviously the sled weighs a bit more so it requires more effort to maintain an edge when sidehilling. The powerplant puts out respectable performance that is smooth and uniform with good top-end speed and torque.
The Viper is a pleasure to ride on the trail getting to the mountain. The front suspension provided a very stable and smooth ride. The rear skid also worked well, but may have benefited from some minor softening to make it optimal.
Polaris 800 Assault RMK 155
The shorter 155-track added a bit of fun factor, and definitely carries good speed in drag racing situations. Performance in the snow conditions we found was excellent with little disadvantages relative to the longer-tracked sleds.
Suspension adjustability was a definite plus for easy in-field fine-tuning. The wider ski-stance made the Assault a bit harder to acquire an edge relative to the other mountain sleds, especially in the low snow areas. But it was still easy to flip up with modest countersteering. Once on edge, the Assault handled like a Pro RMK.
Brent Burton

Categories
Polaris 800 Pro-RMK 163
REV XM Summit X T3 800 163
Arctic Cat M8000 Sno Pro 162
Weight
5
5
4
Horsepower
4
5
5
Front Suspension
4
5
5
Rear Suspension
4
4
4
Track
4
5
5
Deep Snow Maneuverability
5
5
5
Sidehilling Capabilities
5
4
5
Handlebars
4
4
5
Skis
5
4
3
Style and Looks
4
5
4
Clutching
5
5
5
Fun Factor
5
5
5
Total
54
56
55
Roger Raymond Ride Impressions
Polaris 800 Pro-RMK 163
Great snowmobile – tried, tested and proven. It is consistent and predictable. I can put it pretty much anywhere I want with reasonable effort. I have high confidence in the Pro in difficult terrain conditions. It is fun to ride.
COMPARISON: Read our review of the 2015 Polaris 800 Pro-RMK + Video
Ski-Doo REV XM Summit X T3 163/174
This is the first time in all my years riding and evaluating that Ski-Doo has produced my #1 and favorite mountain snowmobile. I can ride it like a motorcycle. I can perform all the maneuvers I want without hanging off the snowmobile. It has a perfect sweet spot for sidehilling. I had, by far, the most confidence on this snowmobile. I did notice though, it had a tendency to tail walk – wheelie. I love how easy it is to highmark on the T3. It does not hesitate to perform necessary mountain maneuvers. Outstanding track.
The standard word everyone uses to describe the 174" T3 is TRACTOR. While I agree it can keep going in deep snow with little to no momentum, I still consider the T3s to be the most nimble of the mountain sleds. In fact, it is so nimble that it is easy to over-ride it. If you put as much body English into it as you do a Pro or Cat, it can feel squirrelly and pull over or go up hill unpredictably. I found the best results when I rode it like a motorcycle, straddling the seat, and counter steering for a controlled bank. It was clearly the easiest sled for me to ride. I was much less tired after 30 minutes on it than any of the others, especially in really tight trees and gullies.
Arctic Cat Sno Pro M8000 162
Huge improvement over the 2014; power is much smoother and predictable. The three-inch PowerClaw is amazing. The front end, though, remains heavy feeling. With practice and anticipation, I can take the Sno Pro most everywhere I desire to ride.
Yamaha SR Viper M-TX LE 162
Much better than the Nytro MTX. The Viper M-TX actually feels like a mountain snowmobile rather than a snowcat. It is great on the trails and is also great for open country mountain riding and point-and-shoot. I found it hard to negotiate in technical situations; however, know I could improve on it with practice.
Polaris 800 Assault RMK 155
COMPARISON: Read our review of the 2015 Polaris 800 RMK Assault 155 + Video
This snowmobile is, well, fun to ride. After riding the Switchback Assault, a crossover, this is much more enjoyable. Like the Pro-RMK, it feels light. The suspension out of the box was rather stiff, but was easily softened with the shock dials.
Roger Raymond

Categories
Polaris 800 Pro-RMK 163
REV XM Summit X T3 800 163
Arctic Cat M8000 Sno Pro 162
Weight
5
5
3
Horsepower
4
4
5
Front Suspension
4
5
3
Rear Suspension
4
5
3
Track
3
5
4.5
Deep Snow Maneuverability
4
5
4
Sidehilling Capabilities
4
5
3
Handlebars
4
4
4
Skis
4
4
2
Style and Looks
4
5
4
Clutching
4
5
4
Fun Factor
4
5
3.5
Total
48
57
43
Kevin Allred Ride Impressions
Polaris 800 Pro-RMK 163
When I board the Polaris Pro, it's like meeting up with an old friend. For the past five years, it has been my go-to sled for all situations. The only thing is the 2.4-inch track is showing its age and needs an update against the new generation of taller tracks. I would also like to see some more ponies under the hood, but all in all I continue to feel right at home on this sled.
Ski-Doo REV XM Summit X T3 163/174
BRP/Ski-Doo put much thought into the T3 chassis. The three-inch tall Powder Max II track is impressive and the 163's engine and clutch/gearing calibration works well. The 800 E-TEC is one sweet running powerful engine. Without any question, the three-inch track is for real and it seems to out-class the smaller track sleds. The T3's stock set up worked well (from Bott Yamaha/Ski-Doo). For me, the T3 is an easy sled to ride; although it takes me a little bit of time to get my Ski-Doo legs under me. The 163 T3 had a bit much transfer for my taste, I suggest Ski-Doo tame this down.
Arctic Cat Sno Pro M8000 162
Our M8000 was delivered with a three-inch PowerClaw track. The 2.6 PowerClaw is impressive, but the 3.0 is superior. I had some skepticism at first about the three-inch track, but I'm sold. The T3 and M8000 three-inch tracks simply out-performed the others. The Arctic Cat setup on our M8000 made it unrecognizable from our previous Pro Climb M8000s. I have great confidence in this 2015 M8000, maybe at times too much, as I've pushed the sled hard. I wish the M8000 would lose 15-pounds at the nose – it is front end heavy. This 2015 Cat is the best Pro Climb M8000 Sno Pro I've gotten my hands on.
Yamaha SR Viper M-TX LE 162
COMPARISON: Read our review of the 2015 Yamaha RS Viper M-TX Turbo + Video
This is the first year for the M-TX Viper built from Arctic Cat's ProClimb chassis. Yamaha did a nice job tucking in the 1049cc four-stroke motor into this chassis, complete with Yamaha clutching. Yamaha claims a 135 horsepower, which places this in the 600cc two-stroke class. Our Viper was shipped with the 162 x 15 x 2.6 PowerClaw track. Originally, after the break-in period, our Viper was scheduled to receive an MPI turbo, but late supply problems limited us from receiving it. I found the stock Yamaha motor turns the big track with ease. It is not competitive with the 800 two-strokes, but it moves with ease around the mountains. Had it been equipped with the turbo, it would have been a whole new animal and would have opened the door to a whole different level of riding. On our two-day evaluation, I seemed to be the Viper M-TX guy, and that's OK.
Polaris 800 Assault RMK 155
It was fun having the Assault in the mix for several reasons. First, I got to analyze the difference between a 155-inch track and a 163-inch track in the Pro chassis. The second is how well the wider front end works in the backcountry. I've come to conclude the Assault RMK is a versatile snowmobile. I've always liked the 155 track, although the 163 Pro would mostly out climb the 155. The Assault RMK does have a different feel when sidehilling and carving compared to the Pro. In rough terrain, the Assault is impressive as its Walker Evans clicker shocks are premium bump soakers, and have a wide range of adjustments to improve suspension performance. Lastly, the Assault is just plain fast.
Kevin Allred

Categories
Polaris 800 Pro-RMK 163
REV XM Summit X T3 800 163
Arctic Cat M8000 Sno Pro 162
Weight
5
4
3
Horsepower
3
4
4
Front Suspension
3
4
4
Rear Suspension
4
4
4
Track
3
4
5
Deep Snow Maneuverability
5
4
4
Sidehilling Capabilities
5
4
4
Handlebars
3
3
4
Skis
5
4
3
Style and Looks
4
4
4
Clutching
4
4
4
Fun Factor
5
4
4
Total
50
47
47
Matt Allred Ride Impressions
Polaris 800Pro-RMK 163
At first. I was skeptical about riding a 163, as I've been a 150-something rider for a long time. Well, the 163 Pro changed that. Its ability to hold a sidehill is effortless. It is light and airy through the bars, but not so light as to invite the rider to override the chassis. The handlebars are too high for me; I prefer the bars on the RMK Assault. I find the Pro-RMK holds more snow and ice than the other OEM's chassis. Also, the instrument pod, from an aesthetic appearance, seems dated to me.
Ski-Doo REV XM Summit X T3 163/174
I was a fan, at first, of the 163 over the 174, but I quickly replaced the 163 with the 174. The Summit T3s have great power and spot on clutching (tuning is easy), but I felt the 163 to be nervous when cutting out a sidehill slice, especially in unpredictable snow conditions – tracked up or fresh powder atop a crusty-base. The 163 wanted to over-transfer or pull its nose up hill. However, the 174 T3, oh my, what a sweet and predictable snowmobile. The T3s rapidly respond to driver command.
Arctic Cat Sno Pro M8000 162
The Sno Pro M8000 162 with three-inch track is a mountain abuser. Anyone who rides a 162 Sno Pro without the three-inch paddle PowerClaw will cheat themselves of some serious fun. I don't like the M8000's ski. Cat has heard this before from me. The clutches for this year worked well; no belt-fade from heat. Also, the M8000 did not over-transfer like last year's M8000, partly due to this longer chassis, but also its repositioned rear suspension. In the trees, this sled was nimble and very agile. It it the heaviest of the two-stoke mountain sleds we tested – and it felt like it.
COMPARISON: Read our review of the 2015 Arctic Cat M8000 Sno Pro
Yamaha SR Viper M-TX LE 162
I like this sled. Mountain riders should cut the RS Viper M-TX some slack; it is a behaved snowmobile. For Sr. Test Rider Kevin Allred and me, we enjoy it. We know it quite well and we understand its capabilities. The Viper M-TX is much easier to ride than the Nytro of yesteryear. Where can Yamaha improve the M-TX? Narrow up the front end, throw on a wider powder ski and stuff a three-inch paddle track underneath it. Also, we recommend a seat that is shorter and not quite so tall.
Polaris 800 Assault RMK 155
Handlebar height is perfect. Walker Evans clicker remote reservoir shocks are nice. Great adjustability. The chaincase handles the motor's power very well. The wider ski stance makes trail and mogul mashing absolutely predictable for control freaks. What could Polaris do to improve this? Nothing. But, I believe they have, or will, with the AXYS RMK.
Matt Allred

Categories
Polaris 800 Pro-RMK 163
REV XM Summit X T3 800 163
Arctic Cat M8000 Sno Pro 162
Weight
5
4
3
Horsepower
4
5
5
Front Suspension
4
4
4
Rear Suspension
4
3
4
Track
4
5
5
Deep Snow Maneuverability
4
4
5
Sidehilling Capabilities
5
3
4
Handlebars
4
4
5
Skis
5
5
3
Style and Looks
4
4
5
Clutching
5
5
5
Fun Factor
5
3
4
Total
53
49
52
The Final Tally
Matt Allred

Rider
Polaris 800 Pro-RMK 163
REV XM Summit X T3 800 163
Arctic Cat M8000 Sno Pro 162
Brent Burton
54
56
55
Roger Raymond
48
57
43
Kevin Allred
50
47
47
Matt Allred
53
49
52
Grand Total
205
209
197
Average Score
51.25
52.25
49.25
And the Winner is
With the scoring of our deep powder experts final and tabulated the results are:
First – Ski-Doo Summit T3 163 (Rotax 800 E-TEC)
Second – Polaris 800 Pro-RMK 163 (Polaris Cleanfire 800)
Third – Arctic Cat M8000 Sno Pro 162 (Suzuki 800)
The three 160-something 800s tested well. Our two guest test riders, along with Kevin and I, found the snowmobiles reacted differently to snow conditions and terrain. The Summit T3 163, which battled to the top as Snowmobile.com's King was fun to ride; even with its tendencies to over-transfer and go vertical when sidehilling, it pulled out the most points. The T3 was our mountain snowmobile of the year for Model Year 2015.
The Pro-RMK 163, with its shorter lugs, snuck in as our second place finisher. Its power-to-weight makes it a flickable mountain snowmobile.
Coming in third was Cat's M8000 Sno Pro 162. Its weight and narrow ski brought out the negative comments. But, we applaud its track and power.
Ski-Doo Summit X T3 163 vs. 174
When we asked our guest test riders to join us in comparing Ski-Doo's Summit X T3 163 to the Summit X T3 174; we found varying impressions.
Brent Burton
I feel the 174 offers advantages over the 163. The 163 T3, and overall the XM platform, is probably the most nimble chassis of all the mountain sleds. That said, there is some loss of predictability or increase in tendency for instability in a carving situation if rough, rutted, or other unpredictable snow conditions are encountered. It's sort of an every action has a reaction situation where the nimble chassis would be expected to be a bit less predictable much like a high performance water ski is less stable than a recreational ski. The only other negative I noticed in the chassis is the tendency for it to over-transfer a bit in steep terrain.
Both drawbacks associated with the 163 are improved by the 174, with the longer track tending to dampen the instability and the tendency to over-transfer. At the same time the sled is still probably the most easy to initiate a carve, a turn, or down to uphill maneuver from the standpoint of the amount of rider effort to get the sled to respond. The 163 did carry more track speed in general, which would be expected. The 174 is truly a tractor and is ideal for a recreational rider who wants to boondock or play through the trees without having to maintain a lot of speed to avoid getting stuck. As with any longer track, there tends to be an advantage for sidehilling. Personally, I think the 174 improves the weaknesses of the chassis without any notable decrease in fun factor or handling capability and seems to offer more advantages than disadvantages.
Roger Raymond
My first time on the T3 174 I noticed its track length a little more than I thought I would have. The 174 didn't roll up on edge to sidehill and turn as effortlessly as I remembered the 163. After putting some time on it I realized the 174's front suspension was too soft and the rear suspension was too stiff. I adjusted that out and found it to be similar to the 163. Although we were not fortunate enough to have bottomless fluff to test the deep powder capabilities of the T3 174, it was clear the amount of real estate covered by the track is plenty adequate to float over any amount of deep powder. As I rated all the sleds, I realized rather than trying to decide which brand would be my number one pick this year, I settled on deciding whether I liked the T3 in 163" or 174" most; I conclude, the 174" is my first choice.
Kevin Allred
I pictured the 174 as a shining star on that bottomless deep-powder day we all dream about. No doubt that's the case, but what caught me off guard was how well the 174 worked in snow that was not bottomless deep-powder. As we put the 174 through the gauntlet on our home turf in Wyoming, I found it to be quite compliant in the handling department, even on hard packed conditions. I believe I'd own a 174 over the 163, as the 174 quiets down my complaints I have with the 163.
Matt Allred
We feel, perhaps, the rear scissor link on the 163 T3 should move back an inch or slightly more to reduce over-transfer and the want for the 163 to climb up out of a sidehill. I agree with Kevin, the 174 slows down the T3 and makes sidehilling and deep-wooded ravine bashing pleasant.