Mountain Snowmobiles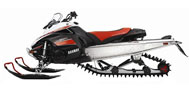 Mountain Snowmobiles
If pure horsepower and climbing ability is what you're after, mountain snowmobiles are the way to go. Mountain snowmobiles sell mostly in areas where the hills are steep and the powder is deep. These machines are lighter and feature longer tracks so they can stay on top of the slow. Long lugs help mountain snowmobiles dig through the deep snow and engines with a focus on high horsepower push rider and machine up impossible looking climbs.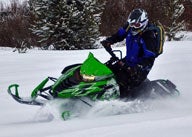 The real deal for four-stroke mountain climbing
Arctic Cat's M7000 Sno is the perfect blend of reliable Yamaha power combined with Cat's ProClimb deep snow technologies. This snowmobile has a dependable motor that will deliver several thousand miles of boonie-bashing adventures.
Being Pro on a RMK Pro Snowmobile
At 417-pounds Polaris' 2015 800 Pro-RMK remains one of the most respected and sought after deep snow sleds on the market simply because it works and is a true "Jack-be-nimble-Jack-be-quick" mountain snowmobile with excellent backcountry credentials.
Still a great sled, the M8000 is struggling to keep up with the competition
Arctic Cat's M8000 Sno Pro is truly mountain-specific, but many mountain snowmobile buyers have a less-than-favorable perception and have not warmed up to the M8000 ProClimb like they have toward the 800 Pro-RMK and XM Summit X and T3.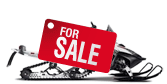 View All Mountain Snowmobile Photos & VideosPhotos & Videos
Mountain Snowmobile Photos

2011 Polaris 800 Switchback Assault 144 Review

2015 Polaris 550 Indy Adventure 155 Review

2010 Mountain Sled Evaluation - Part Two

2012 Arctic Cat ProClimb M800 Review