Mountain Snowmobiles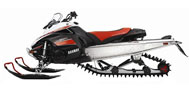 Mountain Snowmobiles
If pure horsepower and climbing ability is what you're after, mountain snowmobiles are the way to go. Mountain snowmobiles sell mostly in areas where the hills are steep and the powder is deep. These machines are lighter and feature longer tracks so they can stay on top of the slow. Long lugs help mountain snowmobiles dig through the deep snow and engines with a focus on high horsepower push rider and machine up impossible looking climbs.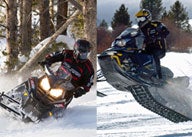 Two popular crossovers that are similar but different
Whether you end up purchasing a 2014 Ski-Doo Renegade 600 ETEC or a 2014 Polaris 600 Switchback, rest assured that you're getting a great snowmobile with either model.
It's an XM Summit and All Mountain Business
Ski-Doo and its XM chassis 800 Summit is a feather light snowmobile through the handlebars and is jam packed with the essential tools to dismantle and decommission a mountain.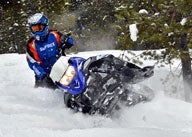 Steady and True
Yamaha's Nytro MTX is a mountain snowmobile, available with either a 153 or 162-inch length track that quietly does what it needs to do, without fanfare and noise.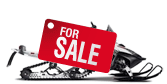 View All Mountain Snowmobile Photos & VideosPhotos & Videos
Mountain Snowmobile Photos

2014 Ski-Doo Summit X Review

2011 Polaris 800 Switchback Assault 144 Review

Seeing the Light on Lite

2011 Polaris 800 Switchback Assault 144 Review: Mountain Test