Trail Snowmobiles
Trail Snowmobiles
Trail snowmobiles are a hybrid of performance and touring. While you may not want to log the same kind of mileage you would on a touring sled, trail snowmobiles have plenty to offer. They are typically lighter and more nimble than touring machines and are suited to a more aggressive rider who likes to get up to speed in a hurry. Sportier suspensions allow trail snowmobiles to tackle rougher trails, but these sleds lack some of the creature comforts of their touring cousins.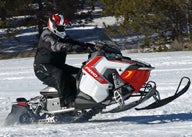 This Polaris is a future classic
Polaris did a great job with last year's introduction of its 800 Switchback Pro-S and we have zero complaints about this second year version. It is fun to ride and the overall fit and finish is outstanding. This Polaris is a winner.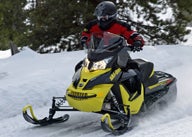 A narrowed profile and revitalized performance
Ski-Doo's new for 2016 MXZ TNT 1200 4-TEC is a much sportier sled than previous versions and deserves praise for its revitalized engine and sportier handling.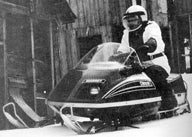 Chinook 300 offered first time buyers great value
Massey-Ferguson's Scorpion-built Chinook 300 was only manufactured for two model years – 1976 through 1977 – and may be difficult for vintage sled enthusiasts to find.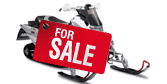 View All Trail Snowmobile Photos & VideosPhotos & Videos
Trail Snowmobile Photos

2010 Yamaha Vector LTX GT Review

2009 Yamaha Nytro RTX SE Review

2014 Yamaha SR Viper XTX SE Review
2012 Yamaha FX Nytro RTX Review