Trail Snowmobiles
Trail Snowmobiles
Trail snowmobiles are a hybrid of performance and touring. While you may not want to log the same kind of mileage you would on a touring sled, trail snowmobiles have plenty to offer. They are typically lighter and more nimble than touring machines and are suited to a more aggressive rider who likes to get up to speed in a hurry. Sportier suspensions allow trail snowmobiles to tackle rougher trails, but these sleds lack some of the creature comforts of their touring cousins.
Ski-Doo blends its four-stroke 900 ACE with a nimble crossover chassis
Ski-Doo's 2015 Renegade Adrenaline 900 ACE is a moderately powered trail sled offering above average fuel economy and long term reliability. It's complementary RAS2 and rMotion suspensions make it nimble, comfortable and fun-to-ride.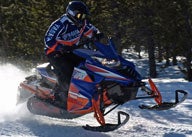 Yamaha's Viper gets race-ready
Yamaha's Viper RTX LE brings a race-ready level of performance to ditch bangers and go really fast trail riders that includes premium Fox shocks and an aggressive Camoplast snocross track.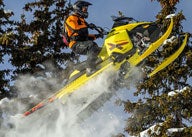 Really long mountain track and new front suspension highlight 2015 updates
As the Number One selling snowmobile brand, Ski-Doo competes in every niche with a wide variety of choices in sled designs, capabilities, engine options and technologies.
Featured Trail Snowmobiles Specs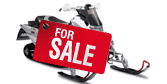 View All Trail Snowmobile Photos & VideosPhotos & Videos
Trail Snowmobile Photos
2010 Yamaha Vector GT FI Review
2010 Ski-Doo MXZ TNT 600 Review

08 Ski-Doo TNT

2013 Yamaha Vector Trail Review