Trail Snowmobiles
Trail Snowmobiles
Trail snowmobiles are a hybrid of performance and touring. While you may not want to log the same kind of mileage you would on a touring sled, trail snowmobiles have plenty to offer. They are typically lighter and more nimble than touring machines and are suited to a more aggressive rider who likes to get up to speed in a hurry. Sportier suspensions allow trail snowmobiles to tackle rougher trails, but these sleds lack some of the creature comforts of their touring cousins.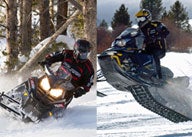 Two popular crossovers that are similar but different
Whether you end up purchasing a 2014 Ski-Doo Renegade 600 ETEC or a 2014 Polaris 600 Switchback, rest assured that you're getting a great snowmobile with either model.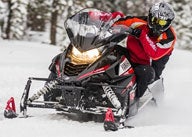 Our choices for best snowmobiles of 2014
We weighed the pros and cons of all the latest snowmobile offerings from Ski-Doo, Arctic Cat, Polaris and Yamaha. Here are our choices for Best Snowmobiles of 2014.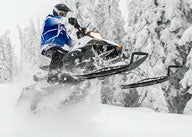 This dirt bike for snow stresses simplicity and function
The design of the Phazer suggests the simplicity of a dirt bike with exposed A-arms, a narrowed fairing, YZ-type saddle and bare aluminum tunnel.
Featured Trail Snowmobiles Specs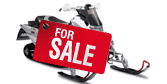 View All Trail Snowmobile Photos & VideosPhotos & Videos
Trail Snowmobile Photos

2010 Ski-Doo Renegade Backcountry X Review

2009 Yamaha Nytro XTX

2011 Yamaha Phazer GT Review

2013 Ski-Doo MXZ TNT 800 E-TEC Review