Trail Snowmobiles
Trail Snowmobiles
Trail snowmobiles are a hybrid of performance and touring. While you may not want to log the same kind of mileage you would on a touring sled, trail snowmobiles have plenty to offer. They are typically lighter and more nimble than touring machines and are suited to a more aggressive rider who likes to get up to speed in a hurry. Sportier suspensions allow trail snowmobiles to tackle rougher trails, but these sleds lack some of the creature comforts of their touring cousins.
Our editors choose the best of the best
Newness wins in model year 2015 and Polaris is the "newest."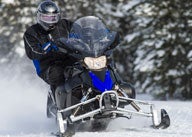 Has Yamaha's Phazer concept met expectations?
Yamaha's 2015 Phazer RTX represents a terrific value for riders who enjoy banging the trails and challenging themselves over deep moguls and through tight rutted corners.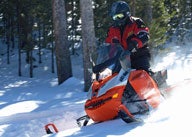 Small changes make a huge difference on and off trail
The RAS 2 upgraded front ski suspension balances out how the rMotion rear suspension works. These seemingly small changes make a huge difference in the handling of the 2015 Ski-Doo Renegade Adrenaline 600 ETEC.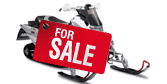 View All Trail Snowmobile Photos & VideosPhotos & Videos
Trail Snowmobile Photos

08 Ski-Doo Legend

2008 Ski-Doo Freestyle Backcountry

2014 Yamaha SR Viper – Real World Test

2009 Yamaha Nytro XTX