Trail Snowmobiles
Trail Snowmobiles
Trail snowmobiles are a hybrid of performance and touring. While you may not want to log the same kind of mileage you would on a touring sled, trail snowmobiles have plenty to offer. They are typically lighter and more nimble than touring machines and are suited to a more aggressive rider who likes to get up to speed in a hurry. Sportier suspensions allow trail snowmobiles to tackle rougher trails, but these sleds lack some of the creature comforts of their touring cousins.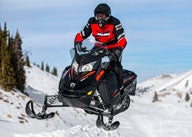 How do you want your Renegade: four-stroke or two-stroke?
Ski-Doo offers a real choice in the "130" category for on or off-trail riders with its 2016 Renegade Adrenaline.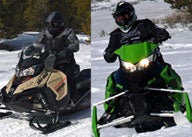 Our favorite 2016 sleds for the trails and flatland areas
After reaching into our test riding collective of nearly 200 years of snowmobiling experience and looking at what was new for the upcoming season, we arrived at this grouping that we feel represents the Best Snowmobiles of 2016.
Polaris 800 Switchback Adventure vs. Ski-Doo Renegade Enduro 800R E-TEC vs. Arctic Cat XF 8000 CrossTrek
These three "adventure" sleds have unique personalities, but all are powerful with strong on and off-trail capabilities. Plus, they come loaded with very nice-to-have amenities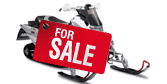 View All Trail Snowmobile Photos & VideosPhotos & Videos
Trail Snowmobile Photos

2009 Yamaha Venture GT Review

07 Yamaha Phazer

2010 Yamaha FX Nytro XTX Review

2011 Ski-Doo MXZ TNT 600 ACE Review