Trail Snowmobiles
Trail Snowmobiles
Trail snowmobiles are a hybrid of performance and touring. While you may not want to log the same kind of mileage you would on a touring sled, trail snowmobiles have plenty to offer. They are typically lighter and more nimble than touring machines and are suited to a more aggressive rider who likes to get up to speed in a hurry. Sportier suspensions allow trail snowmobiles to tackle rougher trails, but these sleds lack some of the creature comforts of their touring cousins.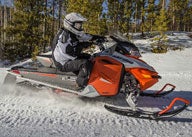 A great rental unit, but for personal use, there are better options
While we look at 2015 Ski-Doo Renegade Sport 600 ACE as a very worthwhile rental unit, you may find those attributes attractive for a long term sled that works surprisingly well both on and off trail.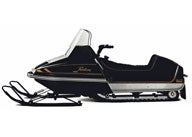 Today's all-new 2015 Pantera proudly wears the history of Arctic Cat's 1976 original "Catillac"
With its powerful Suzuki twin and exceptional handling and ride, the original 1976 Arctic Cat Pantera truly earned its reputation as snowmobiling's first "Catillac."
Stretching the limits of high performance
Ski-Doo's off-trail bump crusher is designed to be ridden hard…really hard. And it comes with the off-trail "cred" to back it up.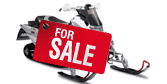 View All Trail Snowmobile Photos & VideosPhotos & Videos
Trail Snowmobile Photos

2012 Yamaha Phazer RTX Review

2013 Yamaha FX Nytro

2011 Yamaha RS Vector GT Review

2012 Yamaha RS Vector EPS Review [Video]