Utility Snowmobiles
Utility Snowmobiles
Utility snowmobiles are there to help you get the job done – whatever it is. A good all-around utility sled can help tow a broken down snowmobiler, carry plenty of gear and help maintain small feeder trails. Utility snowmobiles feature extra wide tracks to help support the additional weight these sleds carry. Built to take plenty of abuse, these snowmobiles might not be high on performance but they can still offer a little on-trail fun.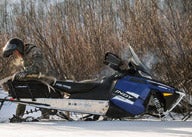 Bullet-proof value for a long track snowmobiling lifestyle
Polaris believes in offering sleds like the 550 Indy Voyageur 144 with proven pieces that are designed to provide both long-term reliability and well-proven performance for the long haul.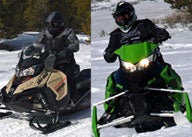 Our favorite 2016 sleds for the trails and flatland areas
After reaching into our test riding collective of nearly 200 years of snowmobiling experience and looking at what was new for the upcoming season, we arrived at this grouping that we feel represents the Best Snowmobiles of 2016.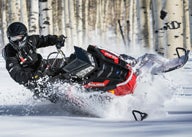 Lighter, stronger, more responsive Pro-RMKs and a versatile line of Indys
Polaris sets a new high mark with its all-new 800 Pro-RMK that is lighter and more terrain dominating, plus returns the SKS, adds more Indys, improved trail models and customizing options.