Utility Snowmobiles
Utility Snowmobiles
Utility snowmobiles are there to help you get the job done – whatever it is. A good all-around utility sled can help tow a broken down snowmobiler, carry plenty of gear and help maintain small feeder trails. Utility snowmobiles feature extra wide tracks to help support the additional weight these sleds carry. Built to take plenty of abuse, these snowmobiles might not be high on performance but they can still offer a little on-trail fun.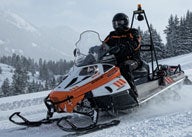 A unique sled that makes you enjoy riding it
Arctic Cat's Bearcat 5000 XT GS is one of those snowmobiles that is truly purpose-built for utilitarian purposes, but it will do and be so much more if you have an open mind toward it.
Our editors choose the best of the best
Newness wins in model year 2015 and Polaris is the "newest."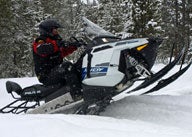 This multi-purpose Polaris is extremely adept on or off trail
Designed to be equally at home on or off trail, the versatile 600 Indy Voyageur 144 fitted with proven Liberty twin and Series 4 track borrows from Polaris' RMK series, which gives it prowess off-trail.