Utility Snowmobiles
Utility Snowmobiles
Utility snowmobiles are there to help you get the job done – whatever it is. A good all-around utility sled can help tow a broken down snowmobiler, carry plenty of gear and help maintain small feeder trails. Utility snowmobiles feature extra wide tracks to help support the additional weight these sleds carry. Built to take plenty of abuse, these snowmobiles might not be high on performance but they can still offer a little on-trail fun.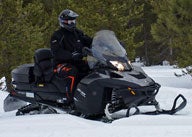 Taking the Grand Touring to extreme lengths
As a sport/utility sled, Ski-Doo's 2015 Expedition SE 900 ACE must satisfy two worlds of expectations – the needs of the serious chore master and a sporting sense of on-trail fun.
Cat brings back Lynx and Pantera for 2015
Arctic Cat continues defining its many niches with updated and expanded models, plus adds a value-priced Lynx and an all-new premium two-up cruiser.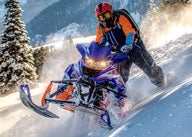 Viper line expands into mountain segment
Yamaha enjoyed success with its 2014 Viper and for 2015 adds some upgrades, tweaks and creates a serious mountain Viper for deep powder riders. Plus, a new series of Limited Edition models will set you apart from the crowd.