End of the Line for "Dirty" Sleds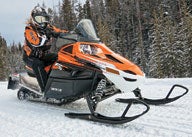 Is it finally time to say goodbye to fan-cooled two-strokes?
It may be time to say "good-bye" to some old friends as we look ahead to Model year 2014 and beyond. This won't be a wringing of hands farewell, as many of the friends we expect to disappear are sleds that have been fading in importance anyway.
Looking at the list of 2013 models, we anticipate the end of the fan-cooled two-stroke era may finally have arrived. Despite our predicting the demise of these once ubiquitous engines for the past five seasons or so, they've managed to hang in as the power choice for every sled makers' low-priced models. Well, except for Yamaha, which changed over to all four-stroke power in the United States and finally discharged the two-stroke powered Bravo in the Canadian market last season. We can imagine the faithful 550cc two-strokes powering sleds outside of the North American snowmobile marketplace in areas where concerns about emissions may not be so stringent. This class of engines still works just fine, just a bit "dirty" by Greenpeace standards.
We figure that Ski-Doo effectively replaced both its "dirty" 600cc carbureted two-stroke twin and its fan-cooled 550 with the nifty Rotax 600 ACE. With about 60 horsepower the clean and efficient four-stroke sort of satisfies the requirements of the sleds formerly powered by those two two-stroke engines. Larger production volume will help keep per unit costs in check as the more sophisticated 600 ACE appears in more sleds as the primary "budget" engine source. It has supplanted the two-strokes in fleet sales where its fuel efficiency and clean-burning aspects remain more important than sheer power and performance. Rental operators want low maintenance and the capability to satisfy "greenies" in areas such as Yellowstone Park.
Arctic Cat Engine Future
Arctic Cat should end the run of its 550cc category two-strokes as well, but it will be very interesting to see what replaces it, as Suzuki power is no longer a long-term option. In fact, both Arctic Cat and Polaris leave us with many questions for future engine stability. Both of these Minnesota snowmobile pioneers have the engineering expertise to create their own new series of snowmobile powerplants. Polaris could use an ATV-derived four-stroke as it did with the Frontier model, designed primarily to placate West Yellowstone anti-snowmobile groups. At that same time Arctic Cat used a small four-stroke which it later turbocharged.
When it comes to Arctic Cat we really don't know what to expect other than future Cats will not use Suzuki-sourced engines, but that doesn't rule out finding a new partner in addition to building its own motors. Arctic Cat makes a fuel injected 500cc twin for its ATV models, but is that power delivery conducive to a snowmobile's needs?
With the engine sourcing an issue to us outsiders, we can only speculate as what snowmobile models will fade away. We are guessing that the F570, F5 and Sno Pro 500 may not continue into the next few seasons as currently exist. Actually, we figure that it makes good manufacturing sense to virtually eliminate the old body style completely and focus engineering and manufacturing completely on the new chassis. The two-up touring models should evolve to the XF chassis as the natural changeover in the Crosstour mode. The Bearcats are low volume and should continue pretty much as is, except for power sourcing.
Polaris engineers are fully capable of providing revamped snowmobile engines and allow for the total disappearance of the imported Fuji-built two-strokes and 750cc four-stroke, both of which have been phasing out. This season the only sled using the once plentiful turbocharged 750 is the Turbo IQ LXT, while the non-turbo version powers the FS IQ Widetrak. These utility-style sleds may linger for a season or two longer as they are useful in Arctic Circle markets, but don't be surprised to see Polaris unveil some new engine choices that can satisfy the need for a "greener" 50 to 80 horsepower powerplant. We would expect the next generation of Cleanfire technology to go from the current semi-direct injection system to full direct injection just as Ski-Doo's Rotax engines evolved to the current E-TEC designs. Direct injection brings the two-strokes closer to the claimed advantages of four-strokes with improved fuel and oil consumption as well as better emissions numbers. Cleaner burning, more fuel efficient and potential for both added power and revised power curves would make such Cleanfire engines another step forward for the new breed of lighter, better handling sleds Polaris keeps springing on us.
Swissauto Designs
As for a new four-stroke, Polaris could use one and the company has both US-based talent and its engineers at engine designer Swissauto Powersports, which Polaris purchased in 2010. It was this Switzerland-based group that developed the 750cc Weber multi-purpose four-stroke used in the 2013 Widetrak. With that connection, Polaris could well have an "ACE" of its own up its sleeve ready to replace its "dirty" moderate horsepower two-strokes.
Like Ski-Doo's Rotax group, Polaris' Swissauto Powersports' subsidiary has a background in high performance engines with experience in go-karts (Biland SA 250cc kart engine) as well as performance auto and marine engines. This group even engaged in a collaborative effort with Greenpeace and the Swiss Federal Office of Energy in 1995 to develop a 360cc horizontally opposed, supercharged four-stroke twin utilizing "future" technologies that are now appearing in modern day automobiles. With this resource, Polaris is fully capable of achieving new, clean and powerful engine technologies suited to snowmobiling.
With Polaris we expect to see the 550 Shift "budget" sleds exit the line. The Widetrak type utility sleds will slowly fade out, but new two-ups should move over to the Switchback type chassis and it's possible that a lower priced version of the Indy may appear with a newly developed four-stroke (?).
ACE Delivers
As noted, Ski-Doo has already prepared for the demise of the budget fan-cooled sleds, readying its Rotax 600 ACE as the new power source. But that leaves a void between the 60 horsepower 600 four-stroke and the 120-hp 600 E-TEC. Would a turbo or supercharger make any sense for a sled needing stout low end and satisfying a midrange power output of 85-95 horsepower? And if the one gets a blower, how about upping the ante on the 1200cc four-stroke triple? Not very likely in this current market except in the case of a new top of the line Grand Touring or GSX, which could also see electric power steering to ease riding effort on high mile excursions.
And as long as we are saying good-bye to certain Ski-Doo models, why would the Tundra Xtreme continue? Might it make sense to combine some models? How about revising the two-up sport, touring, utility lines? We could see the GSX becoming a full personal luxury MXZ. And the Grand Touring could headline the Expedition line with the Skandic and Tundra lines becoming one category with sub-models. Of course, these models really aren't for us North American riders as much as they are for the more profitable Arctic Circle buyers in Russia and Scandinavia.
Four-Stroke Commitment
Where does that leave Yamaha? Ahh, that has been the question for the past few seasons. Even though the Apex and Vector models got heavy makeovers in the past two seasons, hardly any but the most diehard Yamaha enthusiast noticed. The makeover looked too much like the pre-makeover model. But, Yamaha has expended effort in making its top line sleds improved performers, so we aren't seeing the imminent demise of any Yamaha models for next season. On the contrary, Yamaha brought two Canadian models into the US market, the Venture TF and Venture MP. The former extends the utility of the base Venture and the latter adds to the versatility of the Phazer-based Venture Lite and Phazer MTX models.
So, fewer sleds from Yamaha in the years ahead? Probably not as all are about as "green" and environment-friendly as you'll get from a modern snowmobile and we aren't envisioning a change to the current Genesis family of four-strokes. Well, the carbureted Venture triple might fade out and some models could be rolled into one, especially in the Nytro series, as there seem to be more models than necessary since the advent of the XTX 1.75 and the redundancy in rough trail Nytro versions. But, as for the appearance or disappearance of models based on outdated engine sourcing, not likely. Yamaha ditched two-strokes and hasn't looked back at that decision, although we could make a case for a turbo or supercharger model, though that is not likely. Yamaha in Japan went along with the limited availability of "blower" sleds at the urging of the US snowmobile group, but this aftermarket "blower" offering doesn't fit the laboriously long and rigorous engineering trials normally associated with Yamaha engineering. Based on that, we aren't expecting to see a Yamaha model with a factory-installed "blower" in the near future, although there appears little doubt that the Nytro engine can handle the boost.
Obviously we don't know what the sled makers have in mind for us, but there are certain things that suggest some changes are coming. We expect to see new sleds replacing old models like the aforementioned "dirty" 550 category. And new engines should mean new sled combinations.
So, for those sleds leaving us, good-bye, it was fun.
Related Reading
2011 Fan-Cooled 550cc Trail Sportsters
2012 Ski-Doo Grand Touring Sport ACE 600 Review – Video
2011 Arctic Cat F5 LXR Review
2011 Arctic Cat Sno Pro 500 Review
2013 Polaris Turbo IQ LXT Review
2011 Polaris FS IQ Widetrak Review
2012 Polaris 550 Shift 136 Review