Performance Snowmobiles
Performance Snowmobiles
Performance snowmobiles are designed to go fast and take a beating. These race-inspired machines are light and powerful and feature some of the most advanced suspension systems in all of powersports. Whether you want to fly across a frozen lake at over 100 miles per hour or clear the double at the local snocross track, performance sleds can get the job done. These sleds generally favor an aggressive riding position and comfort is sacrificed in favor of adrenaline-inducing performance.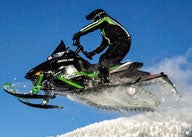 Combining the best of Cat's Sno Pro and LXR models
The everyday ride-ability of Arctic Catís ZR 6000 El Tigre makes it a very impressive sled with a proven heritage.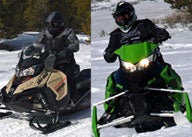 Our favorite 2016 sleds for the trails and flatland areas
After reaching into our test riding collective of nearly 200 years of snowmobiling experience and looking at what was new for the upcoming season, we arrived at this grouping that we feel represents the Best Snowmobiles of 2016.
The big Indy SP provides a rush of traditional values
The 2016 800 Indy SP is not a retro sled, but a modern re-interpretation of the Indy legend that propelled Polaris to market dominance for than a decade.
View All Performance Snowmobile Photos & VideosPhotos & Videos
Performance Snowmobile Photos
2015 Yamaha Viper S-TX DX Review

2014 Arctic Cat ZR 6000 El Tigre ES Review

08 Arctic Cat F570

2011 Arctic Cat Z1 Sno Pro Review