Performance Snowmobiles
Performance Snowmobiles
Performance snowmobiles are designed to go fast and take a beating. These race-inspired machines are light and powerful and feature some of the most advanced suspension systems in all of powersports. Whether you want to fly across a frozen lake at over 100 miles per hour or clear the double at the local snocross track, performance sleds can get the job done. These sleds generally favor an aggressive riding position and comfort is sacrificed in favor of adrenaline-inducing performance.
The big Indy SP provides a rush of traditional values
The 2016 800 Indy SP is not a retro sled, but a modern re-interpretation of the Indy legend that propelled Polaris to market dominance for than a decade.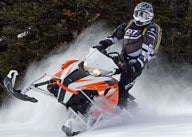 Cat takes you from trail to backcountry with refined features
Arctic Cat's XF 8000 High Country is a great option for the consumer that is trying to balance the trail versus mountain performance that they desire.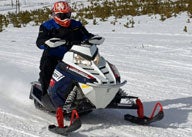 Indy SP is a solid value for long-term sport performance
Just as Polaris marketing intended, for the money the 600 Indy SP remains a solid value that does virtually everything you want a fun-to-ride, low maintenance sport sled to do.
View All Performance Snowmobile Photos & VideosPhotos & Videos
Performance Snowmobile Photos

08 Arctic Cat F6

2010 Arctic Cat Z1 Review

2009 Polaris 550 IQ Shift review

2012 Arctic Cat ProCross F800 LXR Review