Performance Snowmobiles
Performance Snowmobiles
Performance snowmobiles are designed to go fast and take a beating. These race-inspired machines are light and powerful and feature some of the most advanced suspension systems in all of powersports. Whether you want to fly across a frozen lake at over 100 miles per hour or clear the double at the local snocross track, performance sleds can get the job done. These sleds generally favor an aggressive riding position and comfort is sacrificed in favor of adrenaline-inducing performance.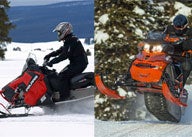 A head-to-head winner depends on what you ride: Ski-Doo or Polaris?
When we evaluate the 2015 Polaris 800 Switchback Pro-S versus the 2015 Ski-Doo Renegade X 800R, we find them very close in specifications and application. But, for this trip around the snow trails, we give a higher endorsement to the new AXYS-chassis Switchback.
Our editors choose the best of the best
Newness wins in model year 2015 and Polaris is the "newest."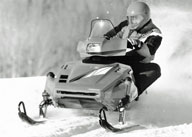 Looking back at a classic confrontation
In 1989 Yamaha and Arctic Cat would never have hooked up as they used two classic sleds to fight head-to-head over market dominance.
View All Performance Snowmobile Photos & VideosPhotos & Videos
Performance Snowmobile Photos

2014 Yamaha Apex Review
2014 Arctic Cat XF 8000 High Country Review

2013 Arctic Cat ProClimb XF1100 High Country Sno Pro

2011 Arctic Cat F8 Review