Performance Snowmobiles
Performance Snowmobiles
Performance snowmobiles are designed to go fast and take a beating. These race-inspired machines are light and powerful and feature some of the most advanced suspension systems in all of powersports. Whether you want to fly across a frozen lake at over 100 miles per hour or clear the double at the local snocross track, performance sleds can get the job done. These sleds generally favor an aggressive riding position and comfort is sacrificed in favor of adrenaline-inducing performance.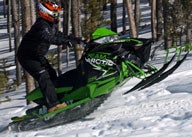 Yamaha power in an Arctic Cat race platform breeds a unique Cat
You will not give up a thing with Arctic Catís Yamaha-powered Race Replica, but will gain proven reliability, strong low end and midrange, plus improved fuel economy.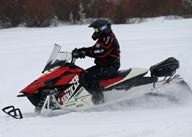 Blending Viper XTX DNA with high mile capabilities
Yamahaís 2015 Viper S-TX DX is a great sled for the serious high mileage rider who makes his riding statement via his odometer and not his heel-clicker riding style.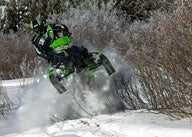 The "look" and features of a racer, but the civility of a superior trail sled.
Loaded with top features, including the latest C-TEC2 twin, Arctic Catís ZR 6000 RR is a handsome sled that proves Cat understands this trail-racer thing.
View All Performance Snowmobile Photos & VideosPhotos & Videos
Performance Snowmobile Photos

2010 Polaris Rush Final Impressions

2009 Polaris Dragon SP

2011 Arctic Cat CFR 1000 Review

2009 Polaris 600 Dragon SP Review