Performance Snowmobiles
Performance Snowmobiles
Performance snowmobiles are designed to go fast and take a beating. These race-inspired machines are light and powerful and feature some of the most advanced suspension systems in all of powersports. Whether you want to fly across a frozen lake at over 100 miles per hour or clear the double at the local snocross track, performance sleds can get the job done. These sleds generally favor an aggressive riding position and comfort is sacrificed in favor of adrenaline-inducing performance.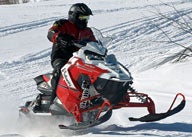 If you want a short track Polaris, this is the one!
The 2015 Polaris Rush Pro-S is a great tribute to Polaris' 60 years of snowmobile manufacturing expertise.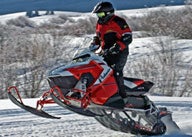 Polaris designs a serious big bump sled for hardcore trail pounders
Polaris' 2015 800 Rush Pro-X is a purpose-built all-conquering terrain-swallowing snowmobile that was created for one thing – attack and run roughshod over the biggest and nastiest moguls.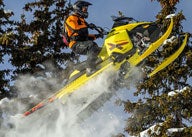 Really long mountain track and new front suspension highlight 2015 updates
As the Number One selling snowmobile brand, Ski-Doo competes in every niche with a wide variety of choices in sled designs, capabilities, engine options and technologies.
View All Performance Snowmobile Photos & VideosPhotos & Videos
Performance Snowmobile Photos

2011 Arctic Cat Z1 Sno Pro Review

2011 Yamaha Snowmobile Lineup Preview

2014 Arctic Cat XF 7000 Cross Country Sno Pro Review

08 Arctic Cat F6