Performance Snowmobiles
Performance Snowmobiles
Performance snowmobiles are designed to go fast and take a beating. These race-inspired machines are light and powerful and feature some of the most advanced suspension systems in all of powersports. Whether you want to fly across a frozen lake at over 100 miles per hour or clear the double at the local snocross track, performance sleds can get the job done. These sleds generally favor an aggressive riding position and comfort is sacrificed in favor of adrenaline-inducing performance.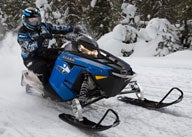 These models launches a new Indy era
Polaris' "value" 600 Indys are truly fun to ride and in keeping with the original Indy heritage.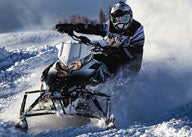 Meet the most powerful luxury sled in the snow world
This high-powered turbocharged Arctic Cat satisfies your need for speed and the opportunity to own the most potent production sled in the snow world.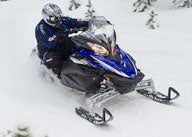 Power, comfort and long legs
Yamaha's 2014 Apex XTX is comfortable, sports good trail manners and is ear-flapping fast.
View All Performance Snowmobile Photos & VideosPhotos & Videos
Performance Snowmobile Photos
2011 Arctic Cat F8 EXT Review

2012 Polaris 600 Rush Review

2011 Polaris 800 RUSH Pro-R Preview
2010 Polaris Dragon 800 Review